Contract Management
Innovative software to create, revise, and collaborate on contracts. An on-premises solution with a rich set of features that let you customize all aspects of a contract management lifecycle including user-access controls.
Affordable
Feature-rich
Secure
Free Instant Demo
---
Feature-Rich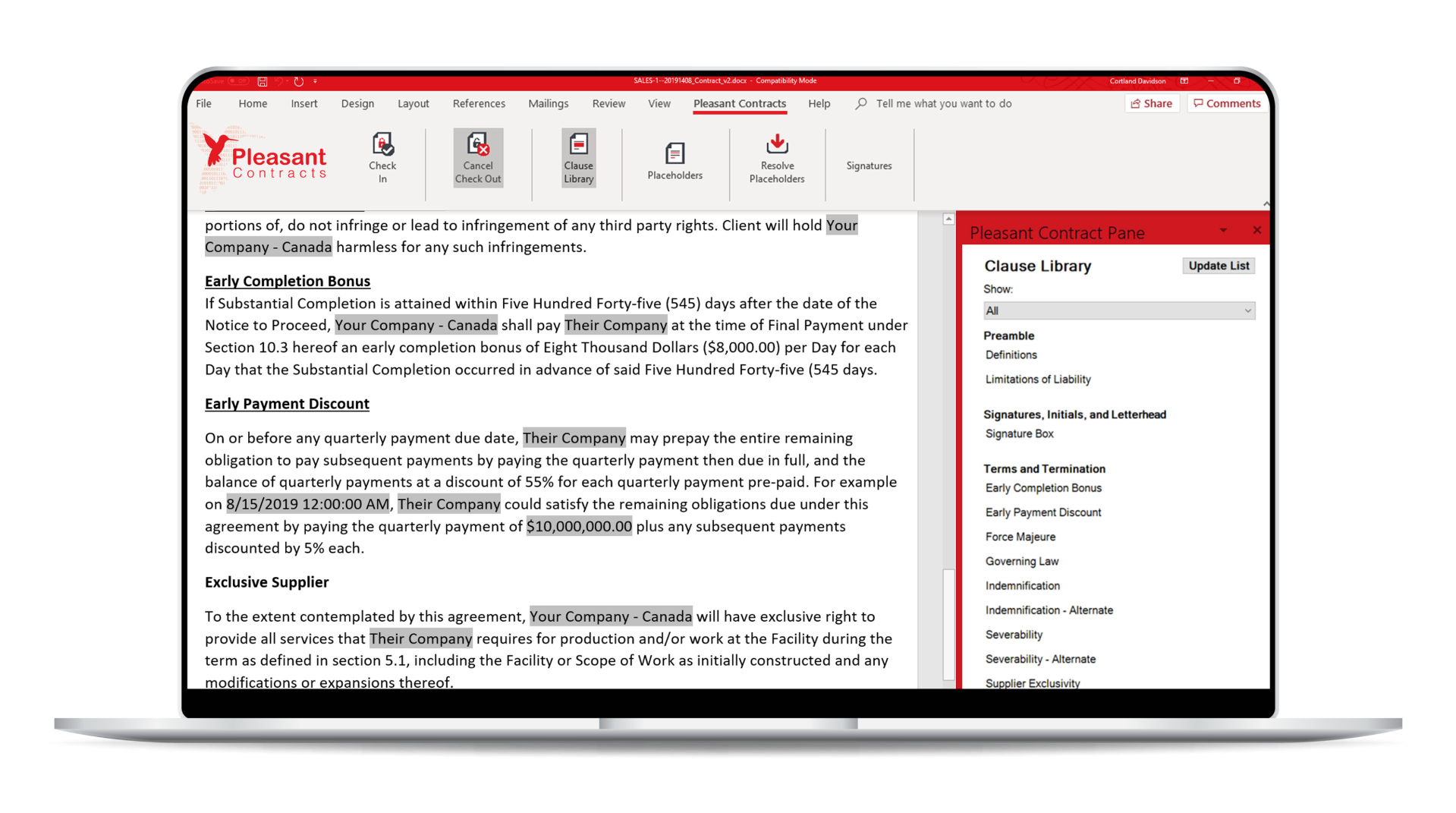 MS Word add-in & Version Control leave little room for human error.
Check-in & Check-out
Resolve Placeholders
Compare Versions
Signature, Initial, & Letterhead
References
Mailings
Clause Library
And more...
Military grade User Access Control (UAC) that's customizable to Corporate Security Policies.
AD/LDAP Integrated
Import Users
Import Roles
Filter by Roles
Disable Users
Corporate Policies
IP Restrictions
And more...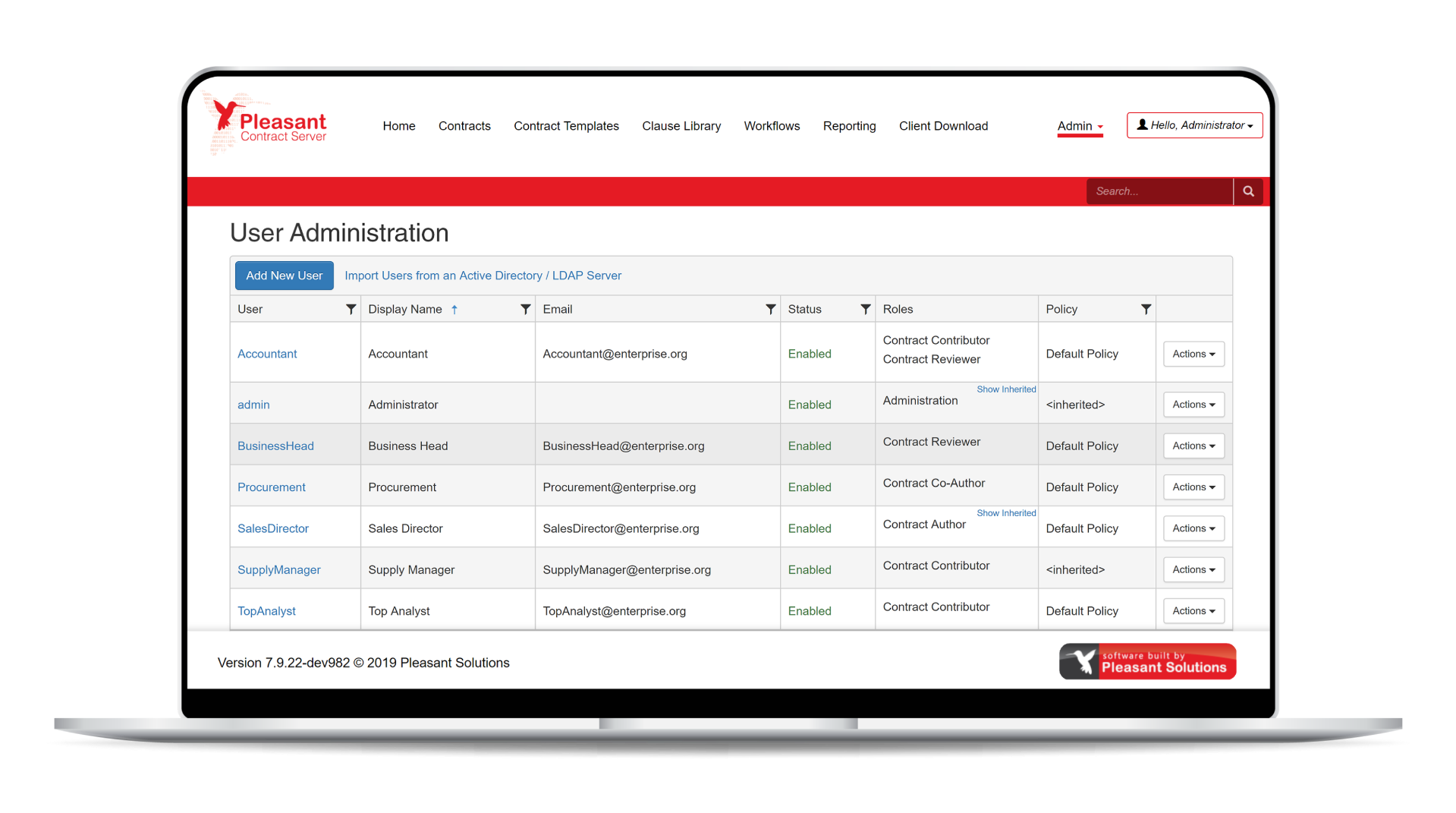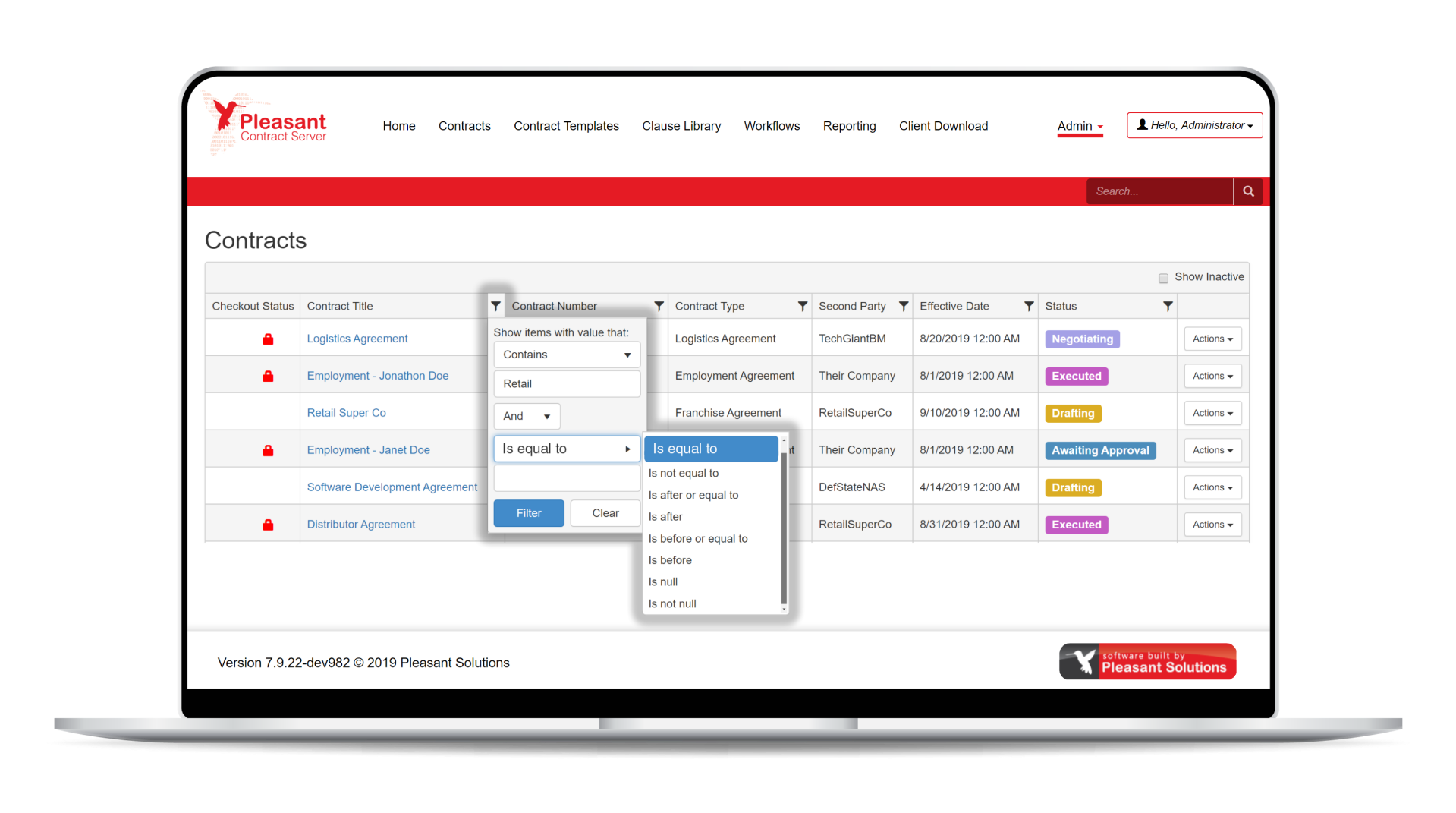 Advanced Filters enable quick access to strategic resources.
Full Text Search
Workflow Status
Effective Date
Contract Type
Checkout Status
Compare Versions
And more...
Custom Notifications improve coordination, eliminate delays, and streamline the rules of engagement.
Add Token
Token Expiry
Confirm URL
Default Notifications
Notifications Preset
Notification Templates
And more...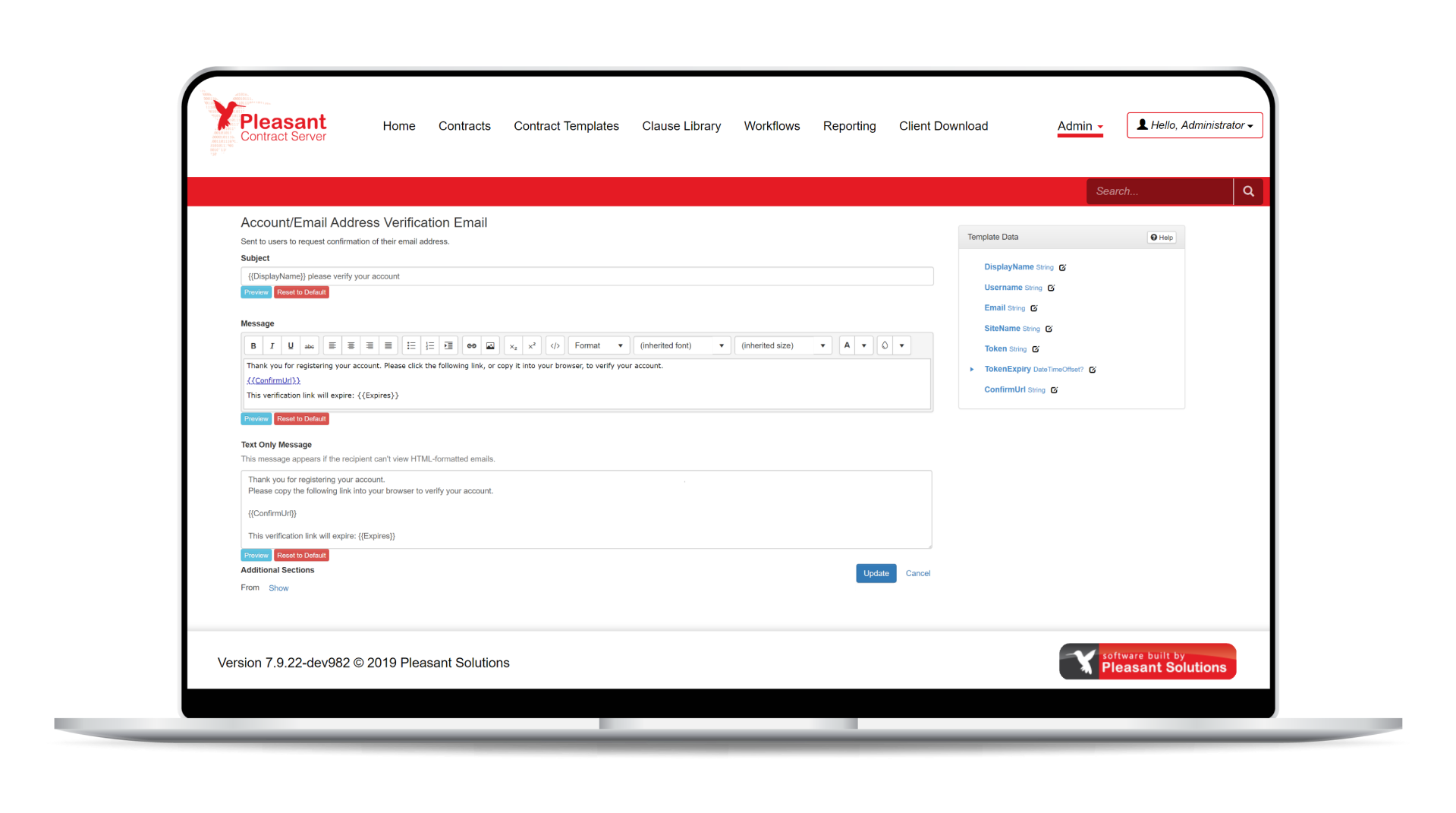 ---
Customizable
Pleasant Contract Server's flexible architecture allows for custom integration with other enterprise systems. Pleasant Solutions can build custom features that address your enterprise's individual needs and regulatory compliance requirements, including:

    Sarbanes Oxley Act (SOX)

    HIPAA Compliance

    Freedom of Information Act (FOIA)

    Stark Compliance

    Pharma/Bio Regulatory Compliance

    HCP Payment Compliance & Alerts

    Physician Payments Sunshine Act

    and more... contact us for your custom features.
If you are looking for local assistance, check out the map of locations where our partners provide on-site support for your contract lifecycle management needs.
---
Secure
View the feature list to learn more about Pleasant Contract Server's long list of features and capabilities, including the Microsoft® Word add-in, DocuSign® integration, Dashboard, Active Directory/LDAP integration, and much more.
---
Strategy Software
---
Easy to Use
---
Affordable
Because we are hassle-free, our prices are openly listed.
Have questions about Pricing and Maintenance? Contact Us. 
Not sure which edition of Pleasant Contracts is right for you? See our Features page to Compare Editions.
Need additional features or a different license tier? Contact us for a Custom Quote.
Users
Community Edition
($US)
Enterprise Edition
($US)
Enterprise+
($US)
Enterprise+SSO
($US)
Select Package
3
$250


$6.94/user/month

N/A
N/A
N/A
Community
10
N/A
$3,550


$29.58/user/month

$4,850


$40.42/user/month

$4,950


$41.25/user/month

EnterpriseEnterprise+SSO
Unlimited


(Est. 15 Users)

N/A
$5,000


$27.78/user/month

$6,300


$35.00/user/month

$6,400


$35.56/user/month

EnterpriseEnterprise+SSO
Unlimited


(Est. 25 Users)

N/A
$5,000


$16.67/user/month

$6,300


$21.00/user/month

$6,400


$21.33/user/month

EnterpriseEnterprise+SSO
Unlimited


(Est. 50 Users)

N/A
$5,000


$8.33/user/month

$6,300


$10.50/user/month

$6,400


$10.67/user/month

EnterpriseEnterprise+SSO
---
Hassle-Free 90 Day Money Back Guarantee 

If for any reason you decide that Pleasant Contract Server does not meet your needs, you may request a full refund within 90 days.
---
Trusted By the Best
The products of Pleasant Solutions are trusted globally by both small businesses and large companies with thousands of users, including those with rigorous needs. Enterprises that have trusted our products include: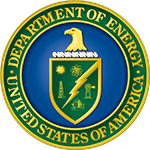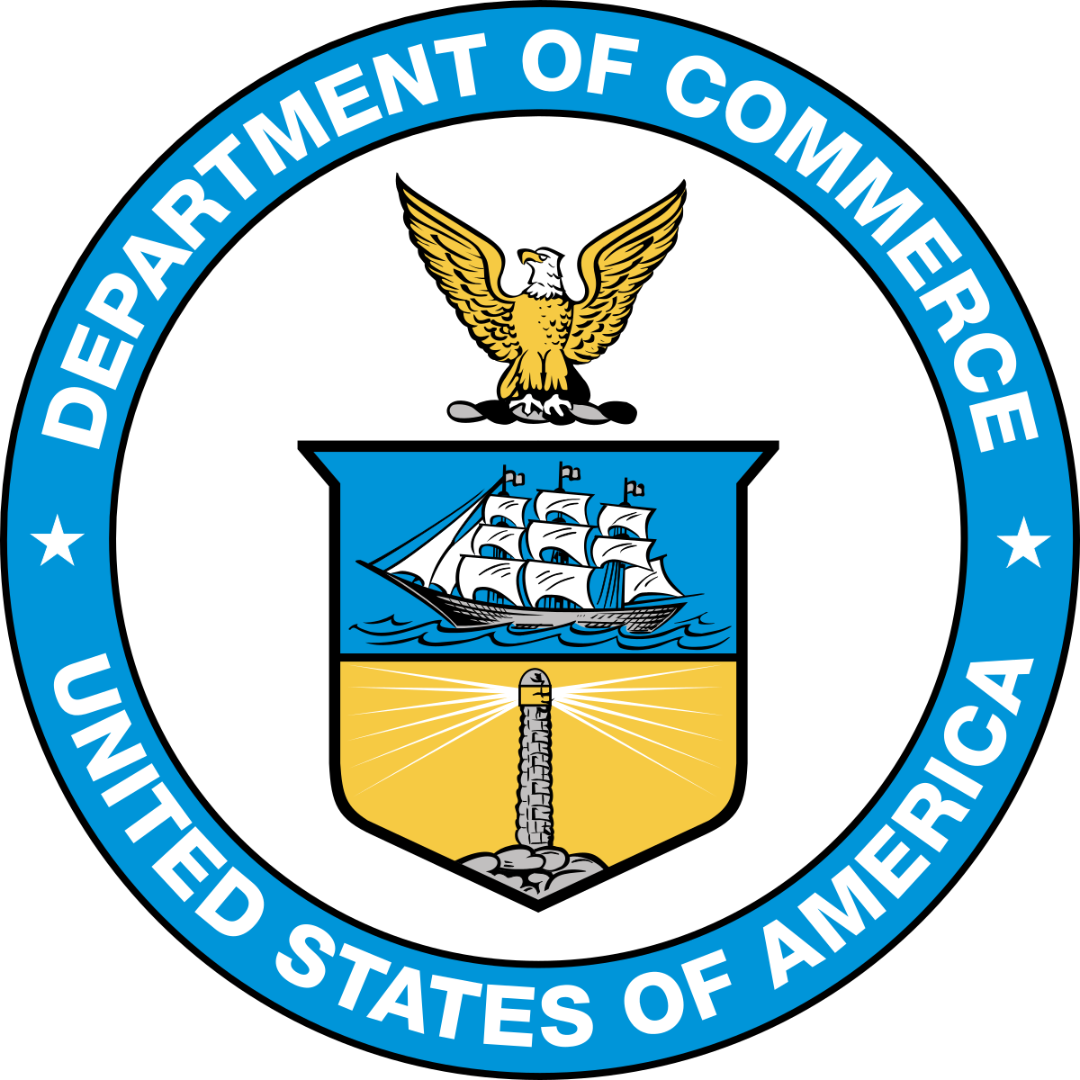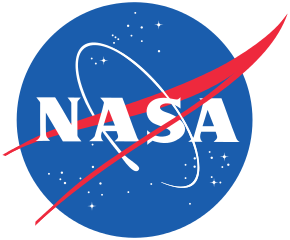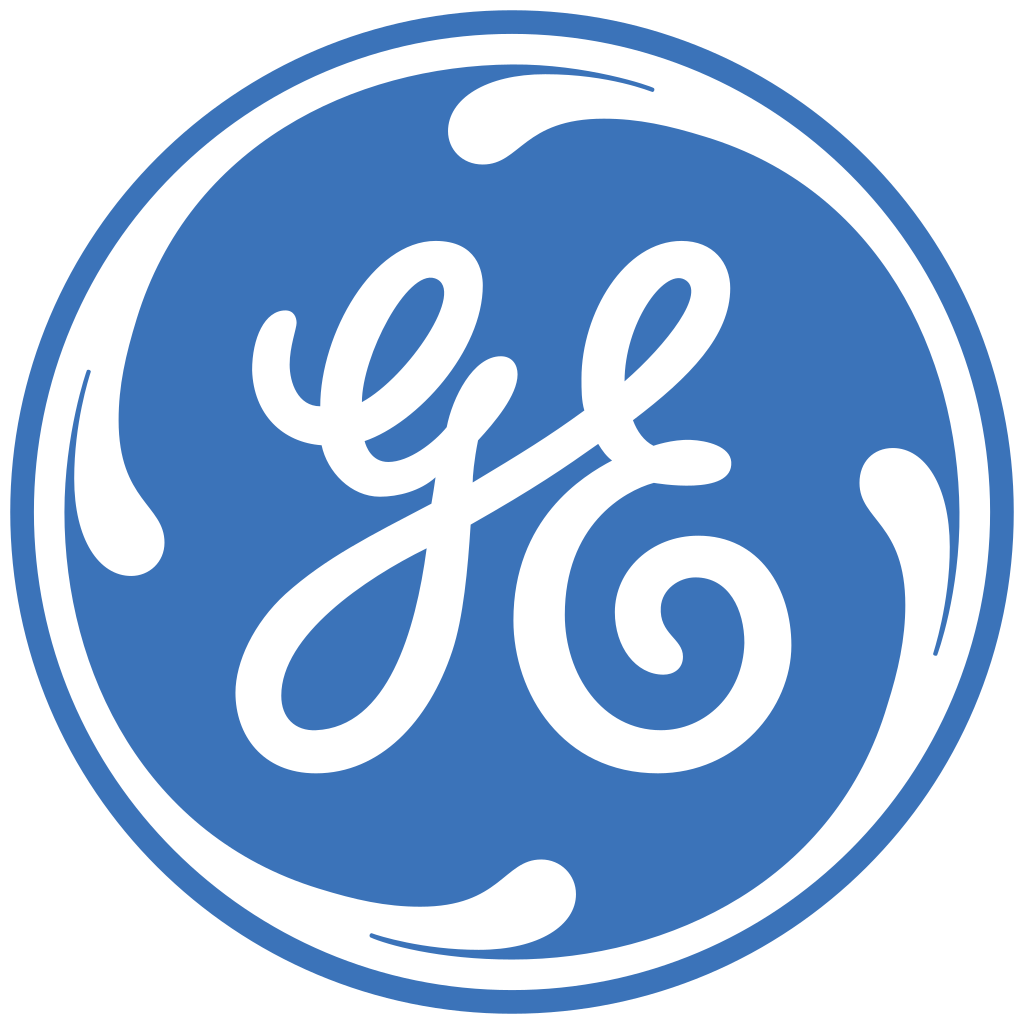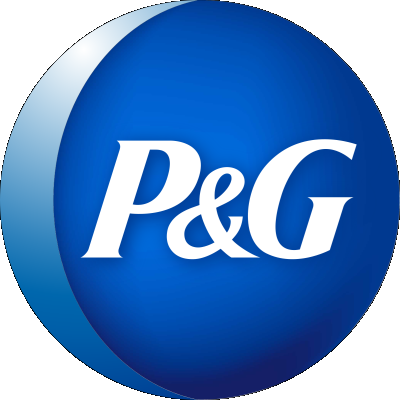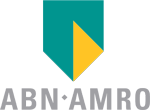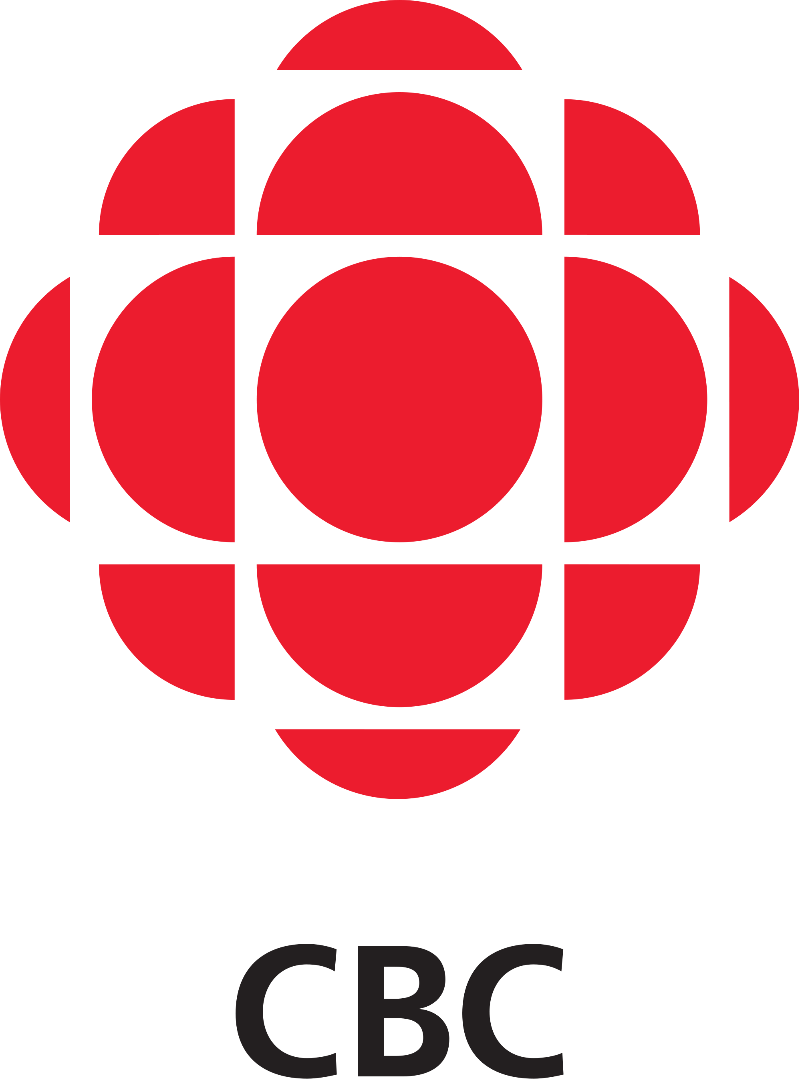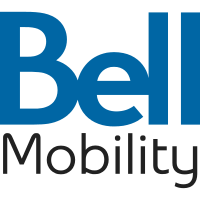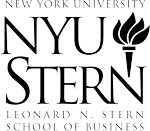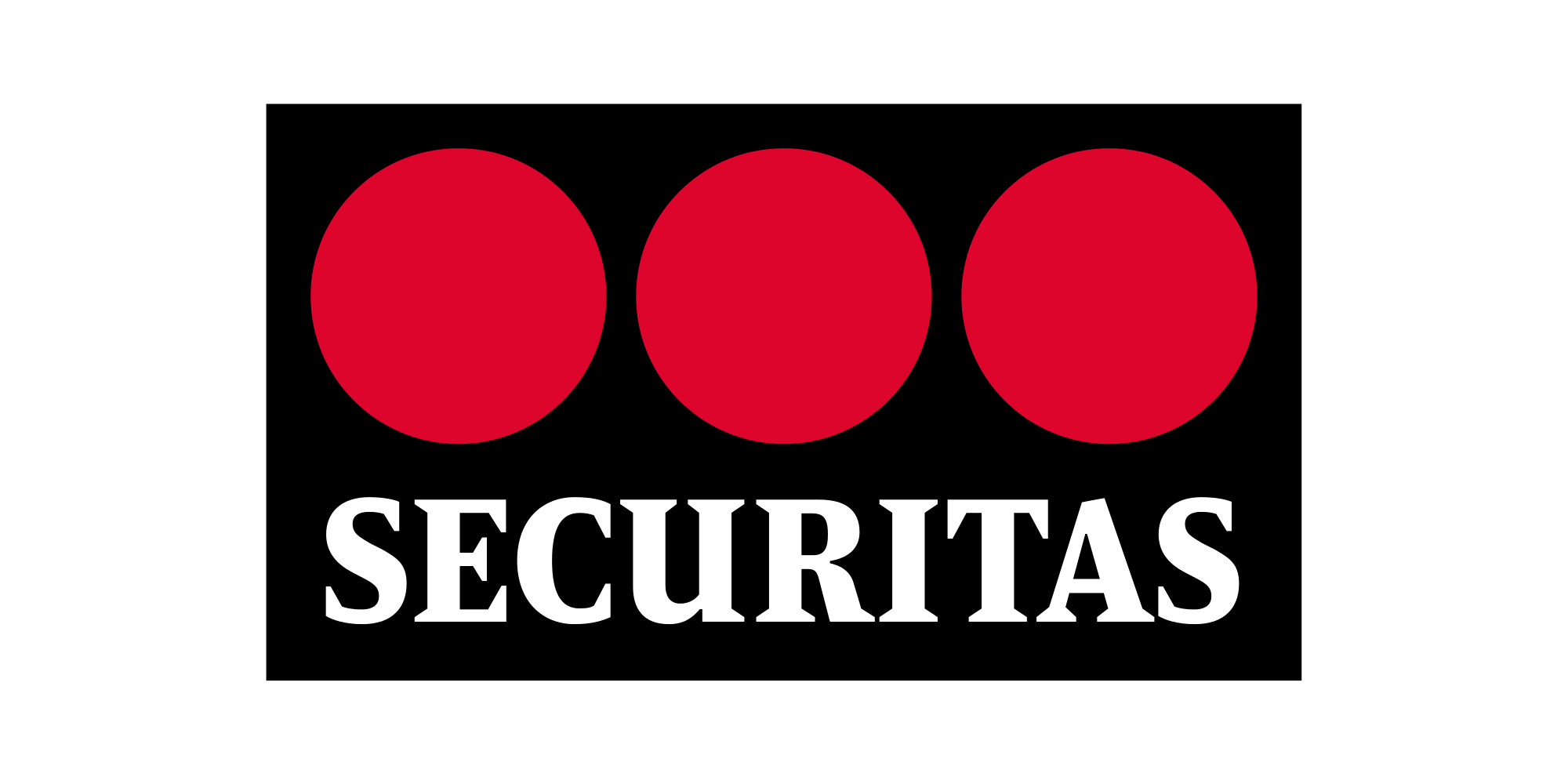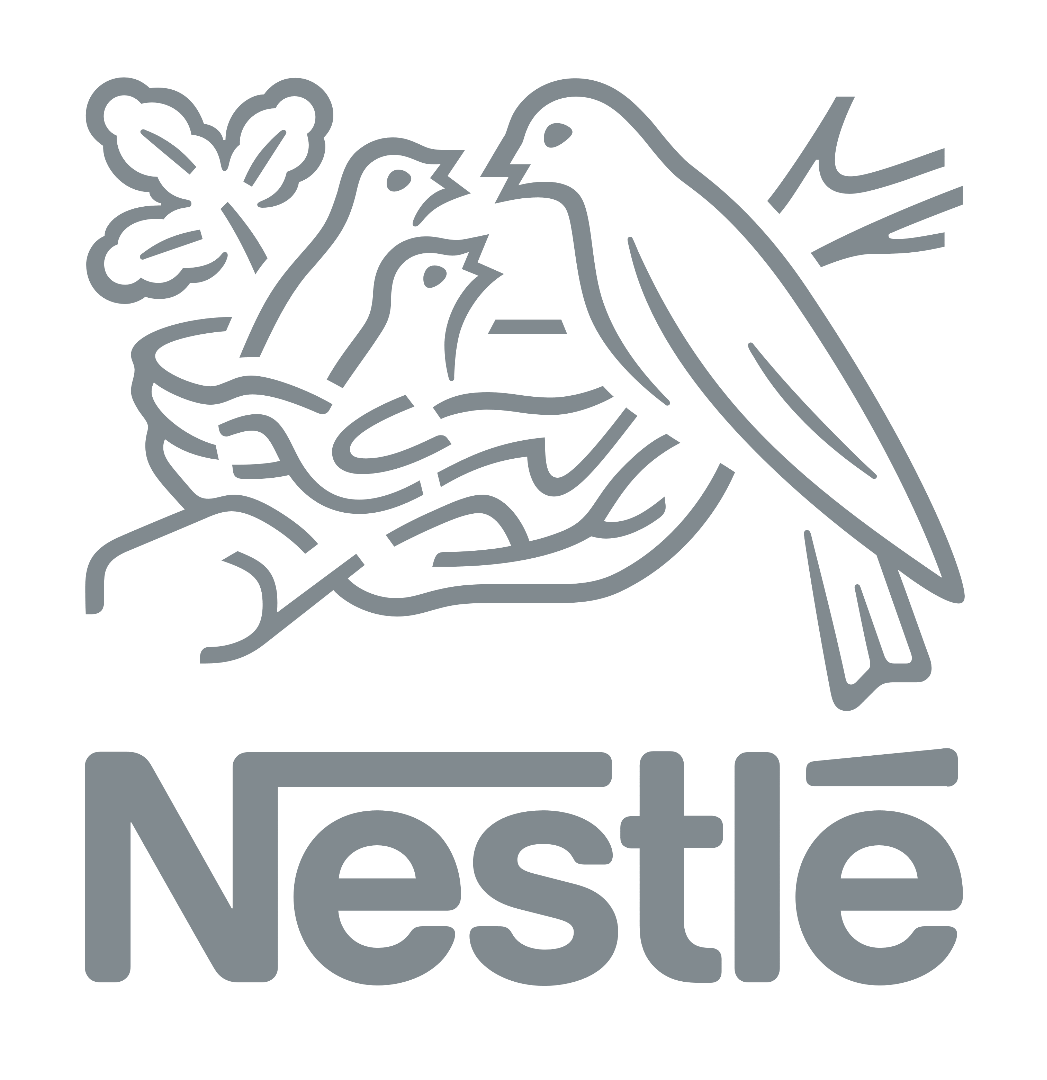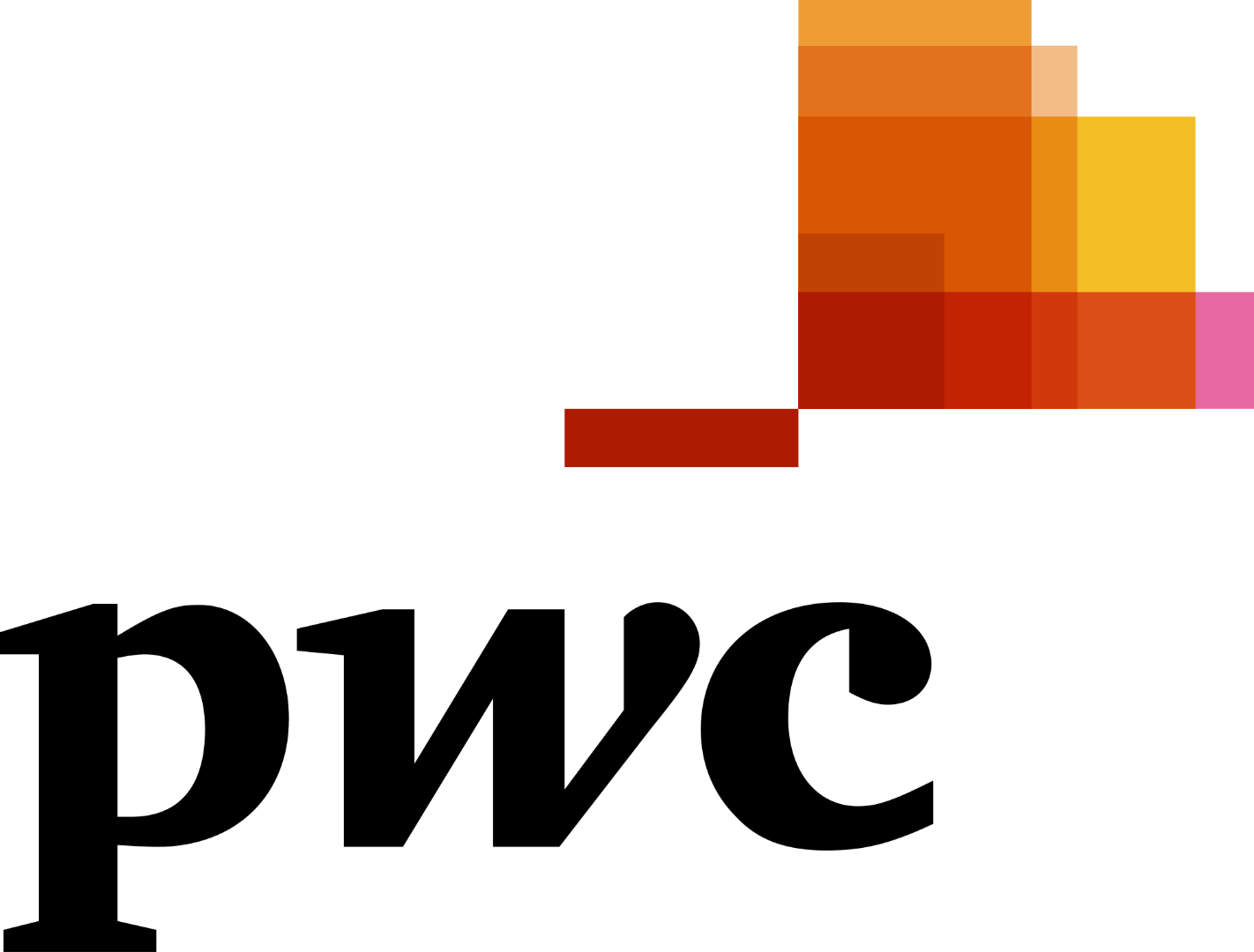 ---
Enterprises Love Pleasant Solutions
Federal Governments
State Governments
Municipal Governments
Banks
Credit Unions
Financial
Universities
Utilities
Production
Medical
Software
IT Globally
European IT
Misc
Quotes
Hundreds of government institutions are clients. Here's a sample of our federal clients.
US Federal Government
U.S. Department of Commerce
U.S. Department of Energy
U.S. Department of Justice
U.S. Department of the Interior
U.S. National Institutes of Health (NIH)
U.S. Navy
The White House
NASA
National Nuclear Security Administration (NNSA)
Raytheon
European Federal Governments
Diehl Defence | Diehl Group
UK National Health Service (NHS)
UK Government Communications Headquarters (GCHQ)
UK Maritime & Coastguard Agency
European Parliament
EU Agency for the Space Programme (EUSPA)
Belgian Nuclear Security
Estonian Foreign Intelligence Service (Välisluureamet)
Estonian Health and Welfare Information Systems Centre
Estonian Ministry of Foreign Affairs
Finland State Security Networks Group (Suomen Erillisverkot)
German Federal Commissioner for Data Protection and Freedom of Information (BfDI)
German Federal Ministry of the Interior, Office for Information Security (BSI)
German Federal Financial Supervisory Authority (BaFin)
German Finance Agency
German Naval Yards
German Unity Motorway Planning and Construction (DEGES)
Luxembourg Parliament
Netherlands Ministry of Education, Culture and Science
Norwegian Equinor
Norwegian Statnett
Spain Insurance Compensation Consortium (CCS)
Statistics Norway
Sweden Ministry of Enterprise & Innovation, Boverket
Sweden Vattenfall
Swiss Federal Nuclear Safety Inspectorate (ENSI)
The British Museum
UAE Telecommunications Regulatory Authority
Federal Governments Globally
UN Refugee Aid
Australian Department of Defence
Australian Department of Health, Primary Health Network (DD&WMP)
Australian Attorney-General's Department
Australian Independent Commissioner Against Corruption
Australia Post | Decipha
Canadian Broadcasting Corporation (CBC / Radio-Canada)
Landcare Research
Leidos Australia
GNS Science
National Archives of Australia
National Film Board of Canada
TVNZ
---