The Evolution of Spreadsheets
Webifier is an innovative, patented add-in for Microsoft Excel that converts your spreadsheets into powerful web applications. Save your organization time and money by becoming your own web app developer instantly, by adding Webifier to Excel!
How Webifier Works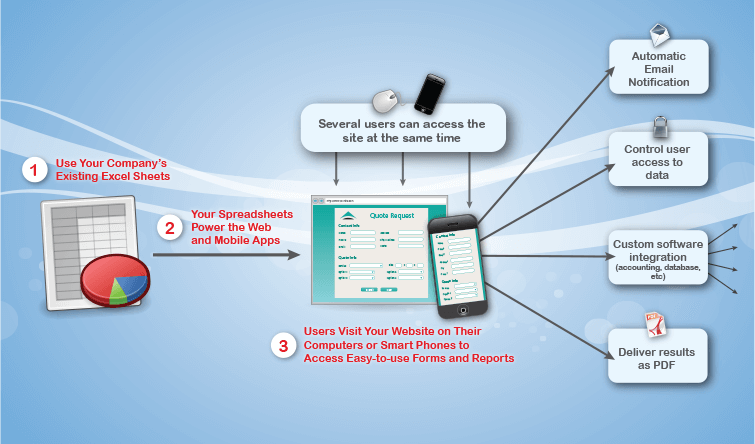 Have you ever dreamed of being able to convert an Excel spreadsheet to a web app? Now you can!
Webifier enables any non-technical person to build their own complex, custom web applications in just a few minutes. There are nearly infinite possibilities of what you can create, and they look and perform great on any device.
Webifier leverages Microsoft Excel – the unrivaled spreadsheet application – in a brand new and innovative way. If you can use Excel, you can use Webifier! Your users will not be challenged by a steep learning curve, unlike with many software programs on the market. This game-changing Excel add-in allows organizations of all types to affordably streamline their processes, bolster security, and minimize the risk of errors, while collecting data from numerous users – all at once.
What You Can Build with Webifier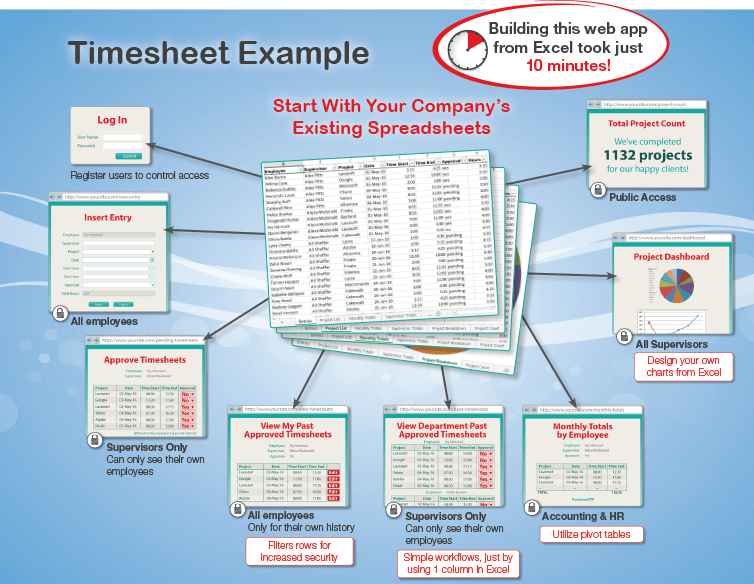 Timesheet apps.
Financial forecasting apps.
Online quoting systems.
Client and customer portals.
Inventory management system.
Interactive reports for the public.
Field data collection with photos.
Survey collection forms.
Intranet document management systems.
RSVP tracking system for events.
And many more – the possibilities are infinite.
Features to Transform Your Operations
Collect data from all users simultaneously – even thousands of users!
Prevent breaking or corrupting of spreadsheets and databases.
Securely block access to private areas of your databases.
Support file attachments, including photo, video, audio, GPS location, and more.
Define per-user security access settings.
Hide any formulas you want to keep secret.
Streamline and track your workflows.
Set up custom email notifications for specific types of changes, values, or user activity.
Seamlessly integrate with your existing systems.
Maintain automatic backups and a history list of all changes.
Generate automatic PDF reports, emailed to specific users.
FAQ's
Once you make an app, it's already online. You then create pages, so that your users can interact with the app.
The default is that Pleasant Solutions will host it for you on our secure server. However, if you'd like to host it on your own on-premise server, please contact us directly and we can discuss your options with you.
If you use Microsoft Excel regularly and are comfortable making spreadsheets with basic formulas and functions, you can easily learn how to make Webifier applications within your existing Excel spreadsheet. Webifier has been designed with basic Excel users in mind while allowing expert Excel users to leverage the full power of Excel and advanced functionality of Webifier.
Are you new to Excel or still wanting to learn more? Great news – given that Excel has unparalleled global market dominance, there is no end to the amount of free tutorials and guides available online.
We have dedicated technical support professionals available should you have any questions.
But since Webifier is so intuitive and easy to use, we don't think you'll have many questions, except for: "Why didn't I get Webifier sooner?"
We break down the Excel document into its smallest parts and save them to different tables in our database. So we have a table for cells, a table for stylings, etc.
All you have to do is upload your spreadsheet to Webifier – via the ever-familiar Excel interface – and then create pages for the app.
When building this add-in, we decided to start with Excel, due to its unparalleled market dominance. Similarly, due to the fact that nearly every office employee knows how to use it already (or could easily learn), it helps to eliminate the steep learning curve associated with many software solutions, that can translate to lower user adoption and greater strain on your IT department.
The concept also works with Google Sheets and Zoho Spreadsheets, and we may expand to include them in the future.
Custom Integrations
Internal Scripting Support
Custom Development
Still have questions?
Have a specific feature you'd like us to custom program for you?