Why Choose Us?
Pleasant Password Server is an award-winning multi-user management tool for KeePass Password Safe, one of the most popular password management systems in the world.
Large enterprises and small businesses have full control over the password database running on your own in-house servers, over the administration of who can access specific passwords and secrets, and over the enforcement of corporate security policies. Here's what you get with Pleasant Password Server, our unique KeePass enterprise solution:

Secure Passwords
Protect your passwords against internal and external threats with multiple points of encryption, secure connections, and no passwords stored on a user's computer.

Reduced IT Costs
Save time and money for your IT department - Reduce forgotten password incidents by up to 40% and quickly import and edit groups of users with LDAP support.



Enforceable Polices
Establish password policies that can be enforced easily. New passwords are validated against these rules, and built-in generators can supply random passwords easily.



Easy To Use and Manage
Less than an hour to install and set up! Built on the popular KeePass manager, with an interface used by millions to track their passwords on multiple devices and platforms.

Multi-Device Compatibility
Use Pleasant Password Server from Windows, Apple OS, Android or Apple iOS applications, or even a fully responsive web app. Wherever you need your passwords, you can get them securely.

Reliable Support
A free year of upgrades and support are included with your initial purchase. Many different maintenance subscriptions plans are available for any size business.
---
 Take a look at Password Server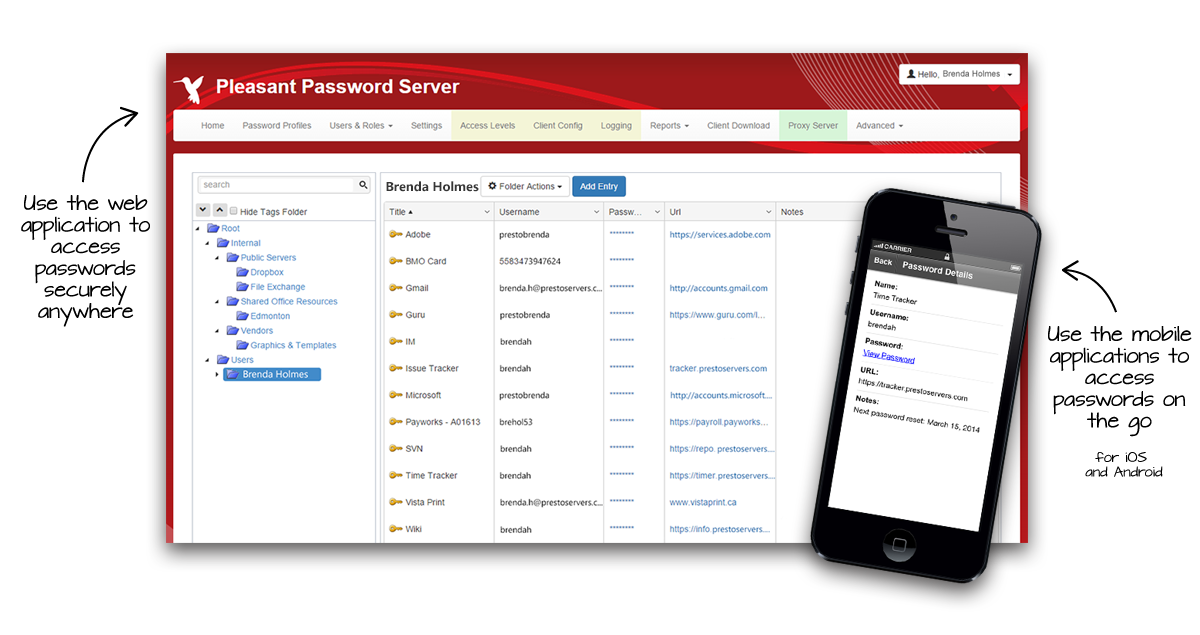 Clients available for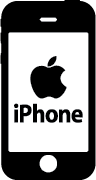 Meet compliance standards with Pleasant Password Server
 FIPS FOIP Canada FISMA PCI DSS HIPAA
---
 Who uses Pleasant Password Server?

Our system is trusted globally by both small businesses and large companies with thousands of users, including those with rigorous needs. A variety of industries make use of Pleasant Password Server. Their satisfaction confirms our focus in helping you achieve your requirements.
The popularity of Pleasant Password Server among knowledgeable and technically savvy IT companies and consultants, says something about our product: they know the product is solid and trustworthy. So you can use it worry-free knowing that people who work with software for a living believe in it.
Pleasant Solutions Server is the best solution for storing passwords and other sensitive data. It is the missing link between Keepass and enterprise level functionality. With this product, I empowered my team with a secure, centralized, and easy to use product for storing and sharing passwords. The pricing and support are top notch.
Jeff Crays, Director of IT, Progenity, USA
More Testimonies and Reviews
Companies who trust Pleasant Password Server and Pleasant Solutions



---
 Extend Pleasant Password Server

Hosting
If you don't have your own server available but still need a secure password solution, sign up for one of our hosting plans to keep your data secure with us.
Hosting Plans

Customization
If you need to integrate into a specific application, or have a custom feature request, contact one of our agents to discuss how we can meet your specific needs!
Custom Options

Password Proxy
Take your password security to the next level! Passwords are centrally controlled, but never viewable nor accessed through any employee devices.
Password Proxy Module