IIS Hosting
Website Documentation for your KeePass client and Pleasant Password Server
(Versions 7.9.0+)
Hosting with IIS (Internet Information Services) provides a full management interface to configure the network traffic to your website.
Have Questions?  Contact Us
Related Topics:
Benefits of IIS Hosting
IIS provides more features, scalability, & robustness than the lightweight IIS Express. IIS Express is a smaller, self-contained version, which is installed by default and starts as a task with the Pleasant Password Server service.
Allows more configuration
Allows for more authentication options, such as:

Other Authorization Rules

Additional logging options
etc.
Below are the migration steps, which in the future, will be replaced with a more automated solution.
Migration Steps From IIS Express to IIS
Step 1: Copy your Application files to the IIS Machine
Do this step if you are migrating to a different machine running IIS. (Otherwise, skip to Step 2).
Copy the Registry entries:


On the IIS Express machine, open the Windows registry and expand the HKEY_LOCAL_MACHINE\SOFTWARE\Pleasant Solutions, right click on it, and click Export.
On the IIS machine locate the same same branch, right-click on it, and click Import.
Copy application folders from the IIS Express machine to the IIS machine:


C:\Program Files (x86)\Pleasant Solutions

C:\ProgramData\Pleasant Solutions\Password Server folders

Step 2: Install your Application on IIS
Install the Application on the IIS Machine (if it is not installed already):


Install Pleasant Password Server
Stop the "Pleasant Password Server" service
Disable the "Pleasant Password Server" service

Stopping/Disabling this service is stopping the IIS Express service which we will be replacing with the IIS site.
Step 3: Run Web Platform Installer
Install IIS feature if it's not already.

Open control panel > Server manager and enable IIS feature.

For an IIS server:

With internet access:

Without internet access

After Web Platform Installer is running

Add the following features (found under Application Development):


IIS: Application Initialization  
IIS: ASP.NET 4.5 or 4.6
URL Rewrite 

Download URL Rewrite if you cannot find it:

https://www.iis.net/downloads/microsoft/url-rewrite
e.g. 

rewrite_amd64_en-US.msi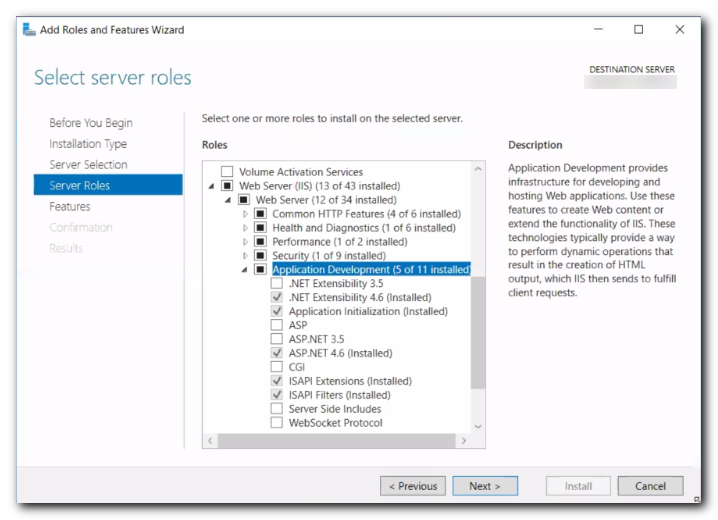 Step 4: Create a New IIS Site
In the IIS Manager, create the new site and set the Physical path to:


C:\Program Files (x86)\Pleasant Solutions\Pleasant Password Server\www

Bind the site to type HTTPS
May choose to use a non-standard port such as 10001 (443 is also acceptable but be sure to match it in your service config), to limit traffic flowing to Password Server
Choose a SSL Certificate
Ensure "start website immediately" is unchecked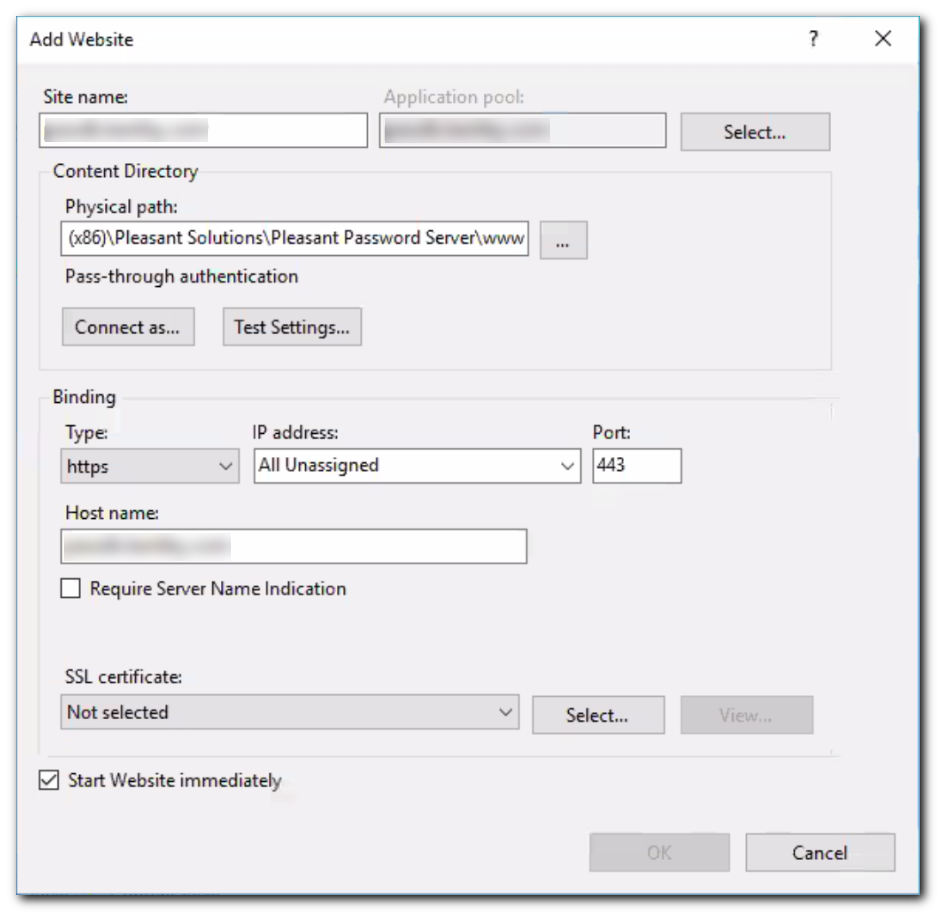 NOTE: For situations where we are re-purposing our IIS Express server to be our new IIS server if we use the same hostname as we are for IIS Express it  will bring down the IIS Express site. So we can set a new hostname and then change it back when we are ready to make the switch.

Step 5: Configure the IIS Site
For the IIS site:

Right-click on the IIS website

Advanced Settings > (General) > Preload Enabled = True

Select the homepage on the left of the IIS console
IIS Authentication icon > ASP.NET Impersonation = Disabled


* however, for earlier Versions previous to 7.9.0, set to True
Step 6: Configure the IIS Application Pool User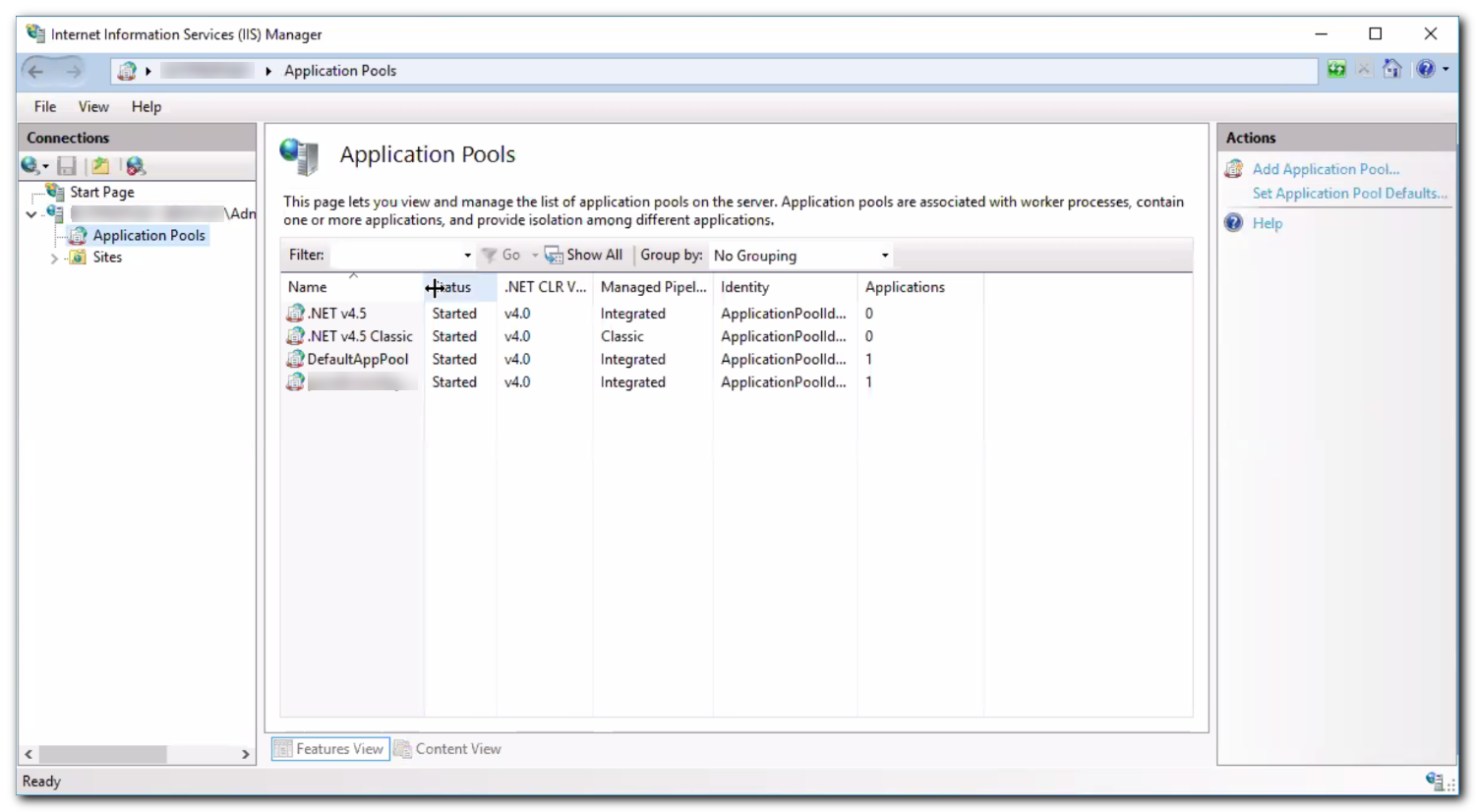 Select Application Pools under the homepage on the left of IIS console
Configure the account used for Password Server's "Application Pool"


Right-click on the Application Pool > Select "Advanced Settings" > Click Identity

Choose one of the following options:

Option A: LocalSystem (easiest)
Option B: Service Account (recommended)
Option C: ApplicationPoolIdentity (advanced)
Stay in the App Pool window and continue to step 7
Option A - LocalSystem (Easiest)
Uses the account which is the most powerful on the machine, with access privileges across the network
Option B - Service Account (Recommended)
A service account with Local Admin access (a local account or AD/LDAP account).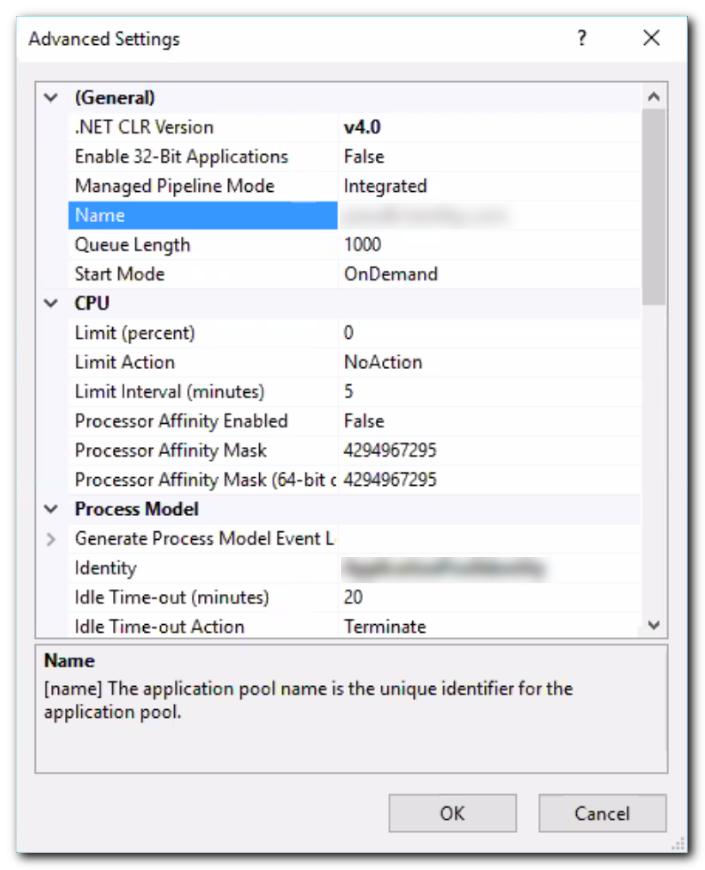 Option C - ApplicationPoolIdentity (Very Difficult Setup Steps)
Choosing this route will likely entail more challenging setup steps of account permissions.
Use a separate, unique Application Pool Identity


Explanation: This creates a new, virtual account to secure the application and it's communications in IIS an across the network with a custom, least privileged account (such as NetworkService). Rather than creating a new account for each application, this account will allow both: running in it's own space and connection to other network locations (e.g. Backup, and MS-SQL).

Set Identity = ApplicationPoolIdentity
Your new virtual user account can be referenced by this handle:


IIS APPPOOL\<YourApplicationPoolName>

This user will not be found by searching in your machine/network users

This user is only selected by referencing the "IIS APPPOOL\" location, indexed by the name of your application pool

(Note: in the next step 7, be sure to set Load User Profile = True

)



Step 7: Configure the IIS Application Pool Settings
Application Pool > Select the application pool > Advanced Settings:

(General) > Start Mode = AlwaysRunning
Process Model > Idle Time-out (minutes) = 0

Stop the website's App Pool from shutting down if it has been idle for awhile (after 20 minutes)

Process Model > Maximum Worker Processes = 0

Allow numerous processes at a time

* Process Model > Load User Profile = True

*

Only needed if you are:


Using a

Service Account

 or

ApplicationPoolIdentity

user, OR,
Seeing IsolatedStorage errors in server Logging Details
Step 8: Configure the Application Pool User Permissions
Configure Local Machine Access: 


If you have chosen a Local Admin account or LocalSystem, your account will have the permissions needed on this machine
Otherwise, provide access:

If using the ApplicationPoolIdentity, see how to reference this user in Step 6, Option A.
File Folders:


Give the account "modify" rights on these folders:


C:\Program Files (x86)\Pleasant Solutions

C:\ProgramData\Pleasant Solutions\Password Server

Registry Keys:


Give the account "Full Control" rights for the registry settings:


Expand the HKEY_LOCAL_MACHINE\SOFTWARE\Pleasant Solutions

Right-Click the folder > select Permissions... > select the Group or username > Advanced > Permissions tab

select the Group or username > Click Add or View button


Type: Allow
Applies to: This key and subkeys (Replaces all child object permissions)
Must remove the permission "Write DAC" - without this the permissions will be reset at restart.

Configure Network Access:

This account may need access for the following connections:

Network Backups: if your automatic Backups are placed on a network share
MS SQL Server Database: give this same user (selected in step 6) access to your database instance

(Note: If using the ApplicationPoolIdentity, see how to reference this user in Step 6, Option A.)
Step 9: Start the IIS site
NOTE: For those using IIS express stop the service

If Re-purposing IIS express server we'll need to re-bind per note in step 4.
Stop the Pleasant Server Service

Enter the properties and set startup type: Disabled.

Select Application Pool > select site
Recycle the Application Pool
The site will now appear under "sites" in the IIS console on the left

If necessary, reboot the server and restart IIS
Please Contact Us!  If you have any questions or any difficulties regarding these steps.
Troubleshooting
If the site does not start or you notice errors:


Check for error details in Windows Event Logs, or temporarily increase the IIS webpage error 500 details (see below for more info).

Increase the Server Logging Details, and check logging activity.
If you see "Requested registry access is not allowed"

There is an issue with permissions. Switch to using either: a Service account user with local admin on the server, or to the LocalSystem user.
Contact us and let us help resolve the issue.
If you see an error accessing Web.config file: 

There could be a couple potential problems:

1) The Application Pool user (for this website) may not have the file folder permissions to access the web.config file.

- W

e would encourage using a User Service Account with local admin privileges to this machine, or the LocalSystem user.

- You may need to give the process running your web app the permissions explained in Step 6.
- Some customers are expressed difficulty using the "ApplicationPoolIdentity" virtual user, which are looking into

2) If one of the necessary IIS Features has not been installed (explained in step 3):

      - URL Rewrite module
      - IIS: ASP.NET

 

If you receive an "IsolatedStorage" error:

Consider upgrading to the most recent stable or higher which better handles this.
Set "Load User Profile" = True   (step 7)
If you receive a "Method Not Allowed" error, when modifying an entry in KeePass for Pleasant client:

Remove the WebDAV feature from IIS, and reboot the server

Open Control Panel > All Control Panel Items > Programs and Features > Select Turn Windows features on or off
Uncheck the WebDAV feature:

Internet Information Services > World Wide Web Services > Common HTTP Features

Reboot and restart IIS server
Double check settings in step 6 as this reboot can sometimes affect this setup
If you notice the Application Pool starts and immediately stops:
If you see an 500 error in your browser, 

View this HTTP Error Codes for IIS page and lookup the 0x800 error code: eg. 0x8007000d 
You may have missed installing one of the 3 features listed at the start, in particular IIS: ASP.NET 
Check for additional Logging detail errors or the windows Event logs.
Increasing Error 500 details:
If you are receiving an error 500 or 400 you can increase the details by following these steps: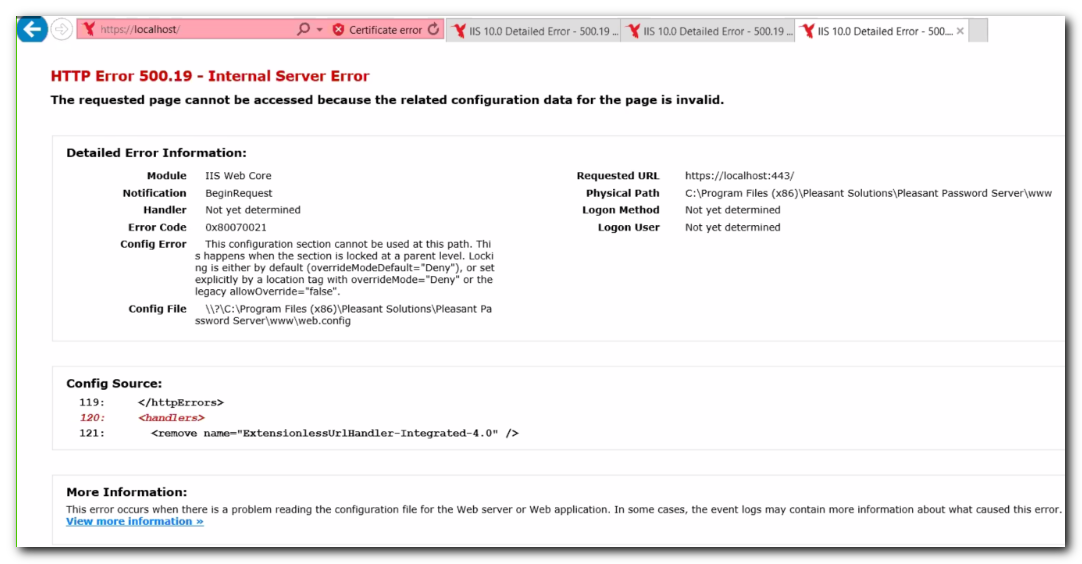 Open the error pages: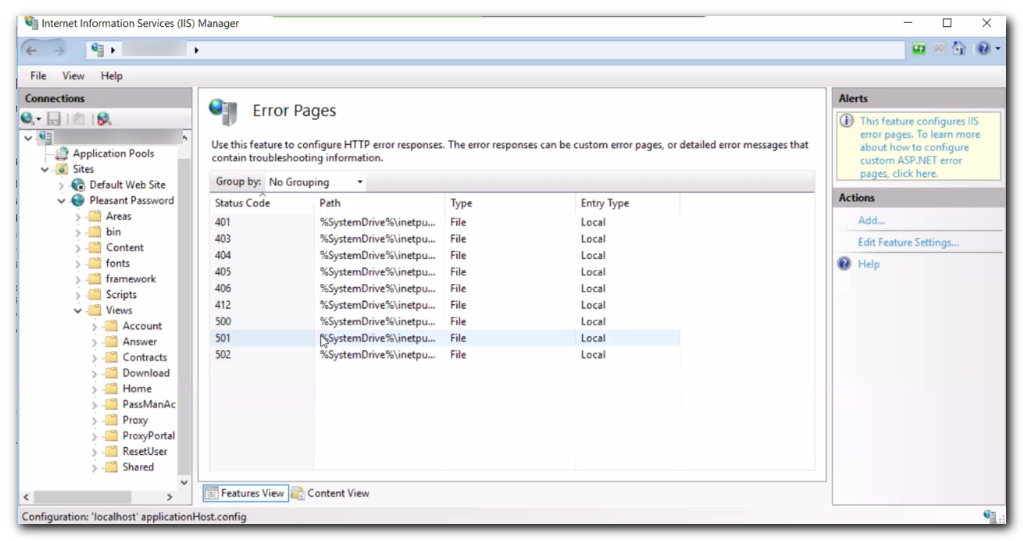 Edit the custom error page