Activating Software
After installing Password Server for the first time you will need to activate your software with our licensing server.
Have Questions?  Contact Us
Sections:
Activated Status
If your Password Server is not currently activated, administrators with the Administer License Status permission will see a red 'License' tab.

Viewing License Tab
If the License tab is not visible, visit Users & Roles > Manage Roles and make sure that you have been given the correct Roles which include the Administer License Status permission.
Check License Status
Click Check License Status to:
See service expiry,
Add users,
Upgrade your edition, or
Renew maintenance for your license

To refresh license info in your application (i.e. expiry date / number of users has not updated):
Re-activate your License Key -- enter the license key into the input box below and click "Activate"
Upgrade My License
If Password Server detects an old license key in your install and you have not yet activated with our server, you may see the following:

Click 'Update My License' to have Password Server automatically retrieve a new key from the server and activate it.
Restart Password Server after activation to make sure all features are properly enabled.
Note: you will not be able to migrate your old key if:
your maintenance subscription has expired
you purchased your existing license on or before March 31st, 2014
Entering the License
On the License Status page, enter the product key that was emailed when you purchased your license and click 'Activate'.  Password Server will verify the key with our servers and your licensed features will be enabled.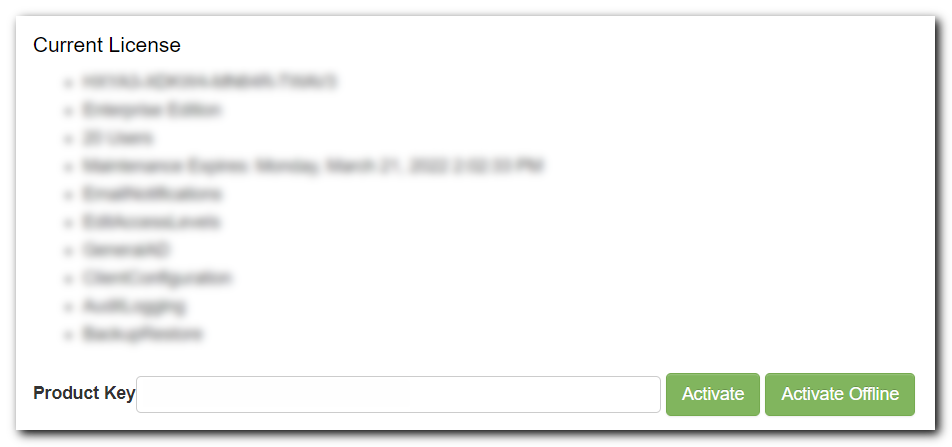 Activating on a New Machine
The licensing accommodates the use of the same Password Server license on another machine for the purpose of: migration, failover, backup, or test/dev environment. It is not necessary to de-activate the license on the old machine.
For High-Availability configurations, the same license can be used for 1 or 2 additional servers which are connected to the same database. For a larger configuration with 3 or more servers, please Contact Us for a Quote.
If you do receive a message regarding over-activation, please Contact us with details.
Activation Problems?
No Internet Access: 


If your Password Server cannot connect to the internet, see Offline Activation below for instructions.

Internet Settings:


Scripting was turned off, and needs to be enabled for this licensing site to work
Include this web page in your Trusted Sites: licensing.pleasantsolutions.com
Network problem: 


It could be that there has been a connection interruption in the network, and we would recommend re-trying again, at a later time.

Please double-check the steps, then if this still does not succeed, proceed to use the Offline Activation steps below.
If you continue to experience any problems with this process, please contact Pleasant Solutions for Support.

Offline Activation
In order to accommodate users who require their Password Server not be able to access the internet, the software can be manually activated with the following steps:
Enter your Product Key in the field on the License tab and click 'Activate Offline'

Click Proceed on the 'Privacy and Client Listing Policy'


Download the

ActivationRequest.dat

from the following page.



Do not navigate away from this page, as you will need to upload your Activation Response to it in order to complete the process.

Transfer ActivationRequest.dat to a device that can connect to the internet.

Visit: https://licensing.pleasantsolutions.com/Licensing/Activate



 

Click 'Select files...' to upload your

ActivationRequest.dat

Click 'Submit Request' 

Click to download the Result file:

ActivationResult.dat

Transfer it to a device that can connect to your Password Server

Return to the Activate Offline page 

Click 'Select files...' to upload your

ActivationRequest.dat

Click 'Submit Request' to activate your software

Problems Activating? See this section above.
Convert Old License Key
Users who have upgraded from versions before 7.1 will need to perform a one-time license key migration. Before you can active PPASS, you will need to convert your old license key to the new format.
Now continue on to Upgrade My License above, for more information.