Full Administrative Control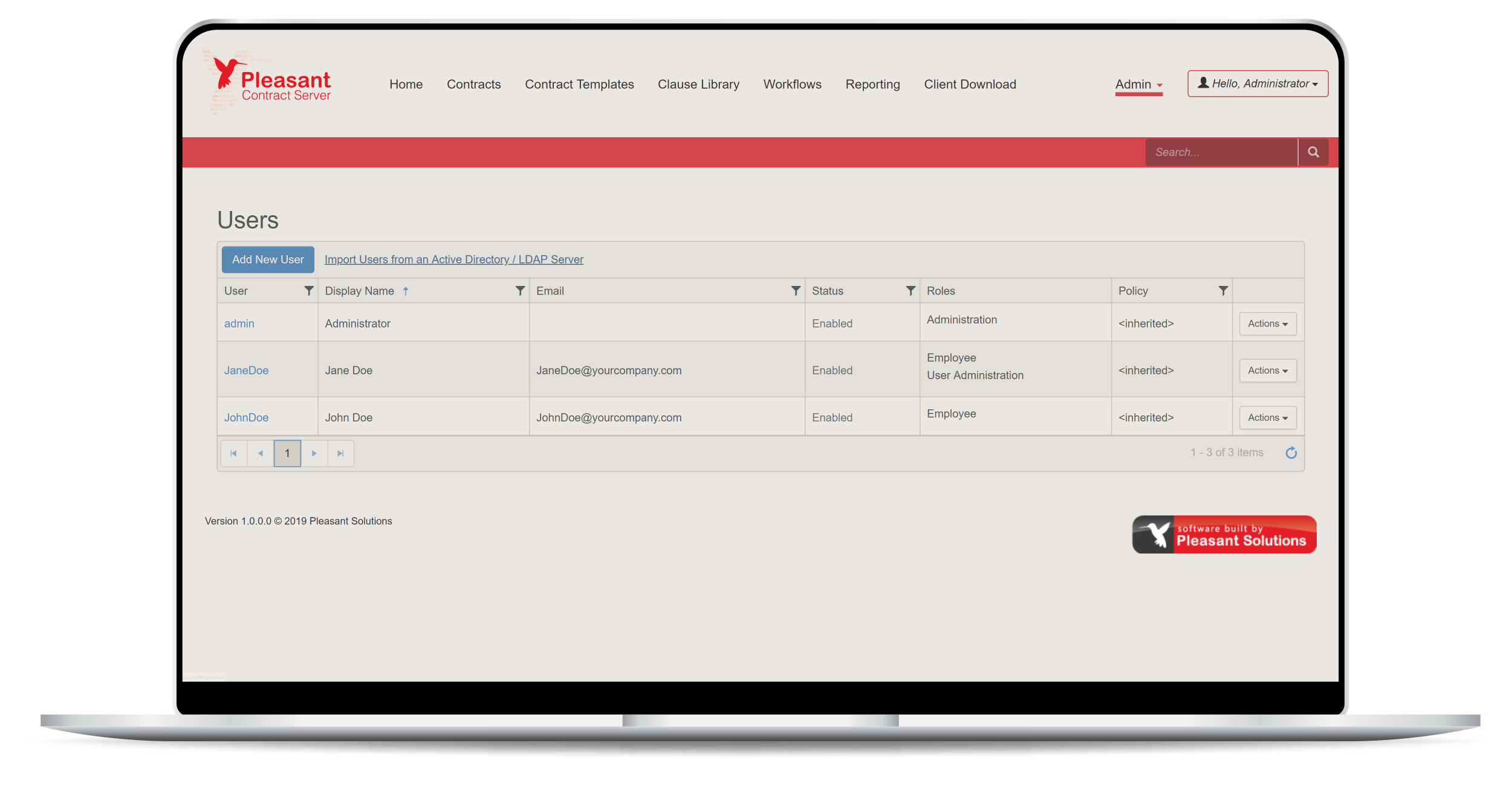 The Administrator has full control over all aspects of the software application, such as adding and removing users and grouping them into the preferred set of hierarchical user roles and security levels. For your convenience, users can be imported from an Active Directory/LDAP Server, making setup quick and painless.
---
Intuitive Dashboard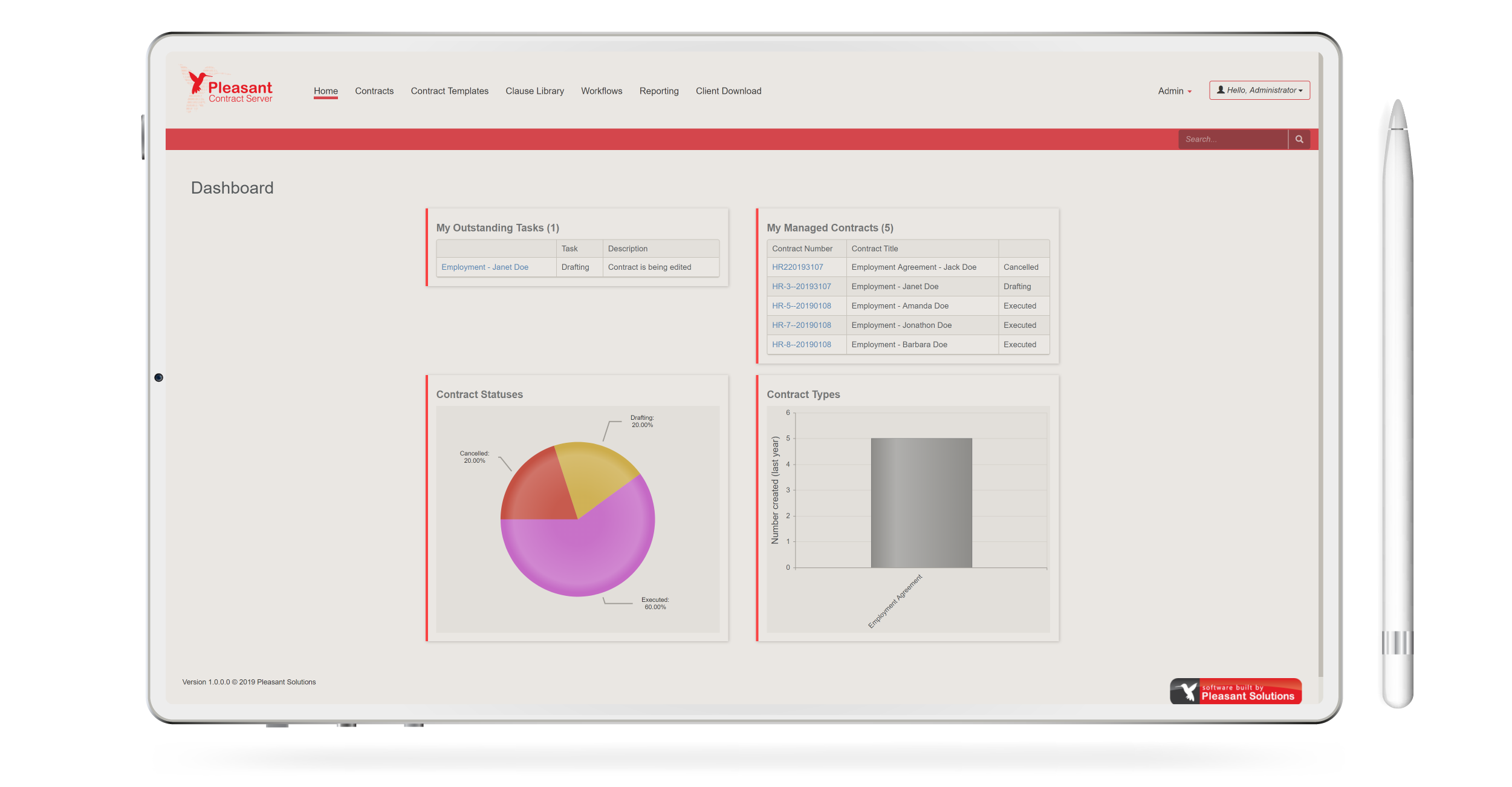 From the Dashboard, each user can see a customized overview of all the most important info on one convenient page, such as outstanding tasks, the contracts being managed by the user, tasks that are assigned to the user or their department, and other important data generated into graphs.
---
Customizable Security Levels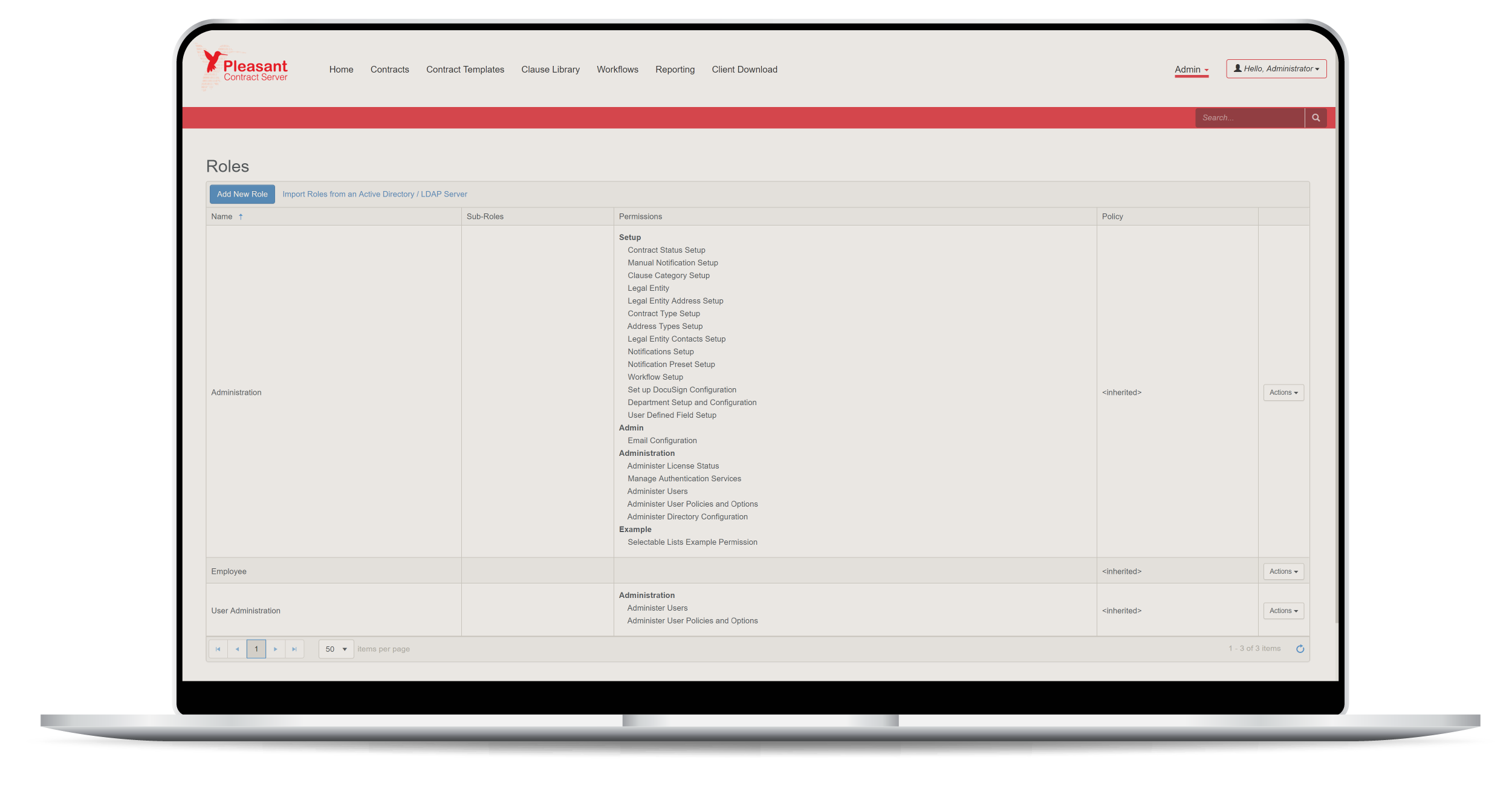 Access to specific contracts or features can be assigned by the administrator according to user roles, so your sensitive data is not accessible to unauthorized personnel. Assigning roles to groups of users makes the management of contract access faster and more efficient.
---
Assign Roles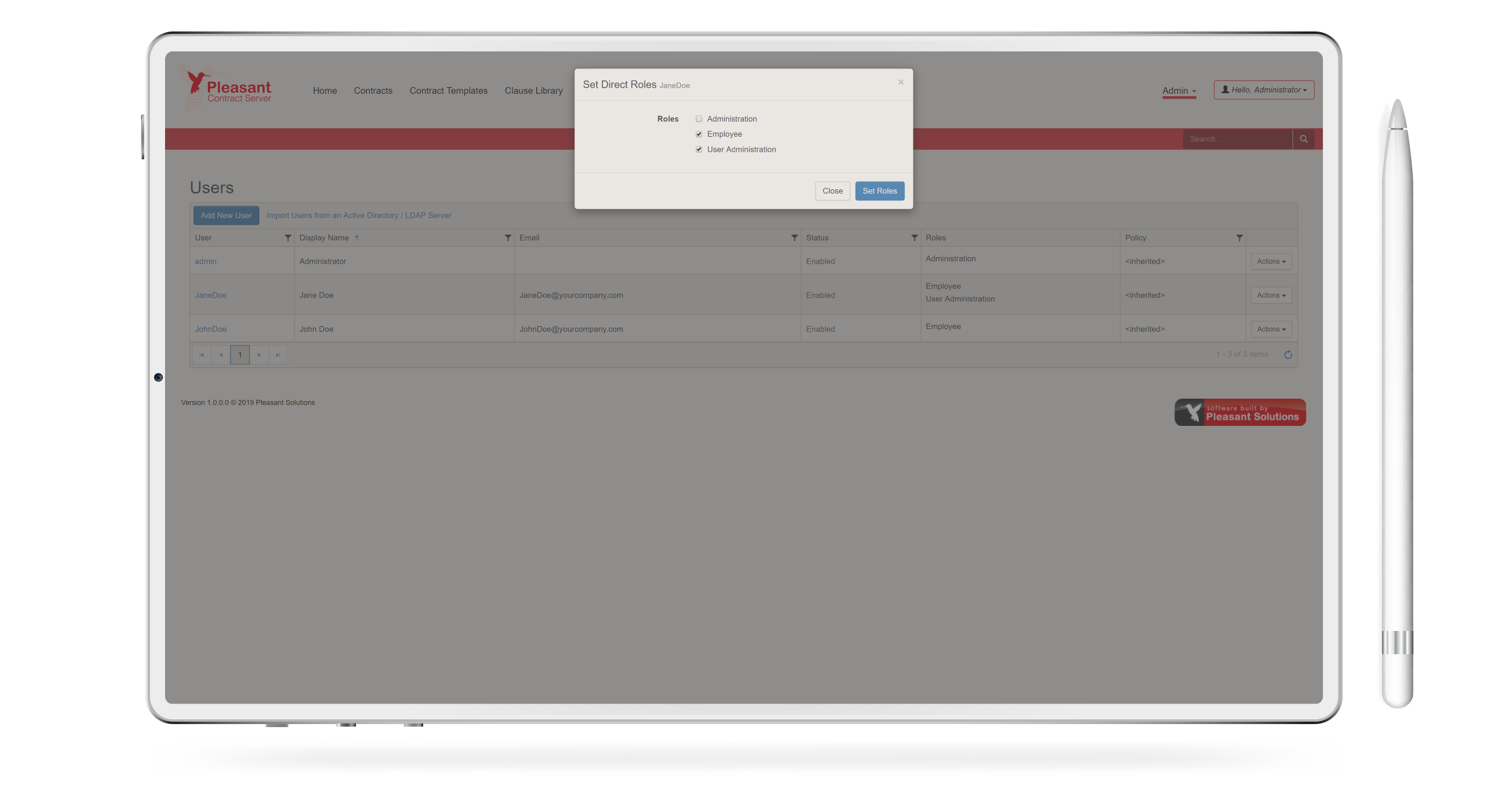 Roles can also be assigned individually to specific users for full customisability of access.
---
Advanced Filters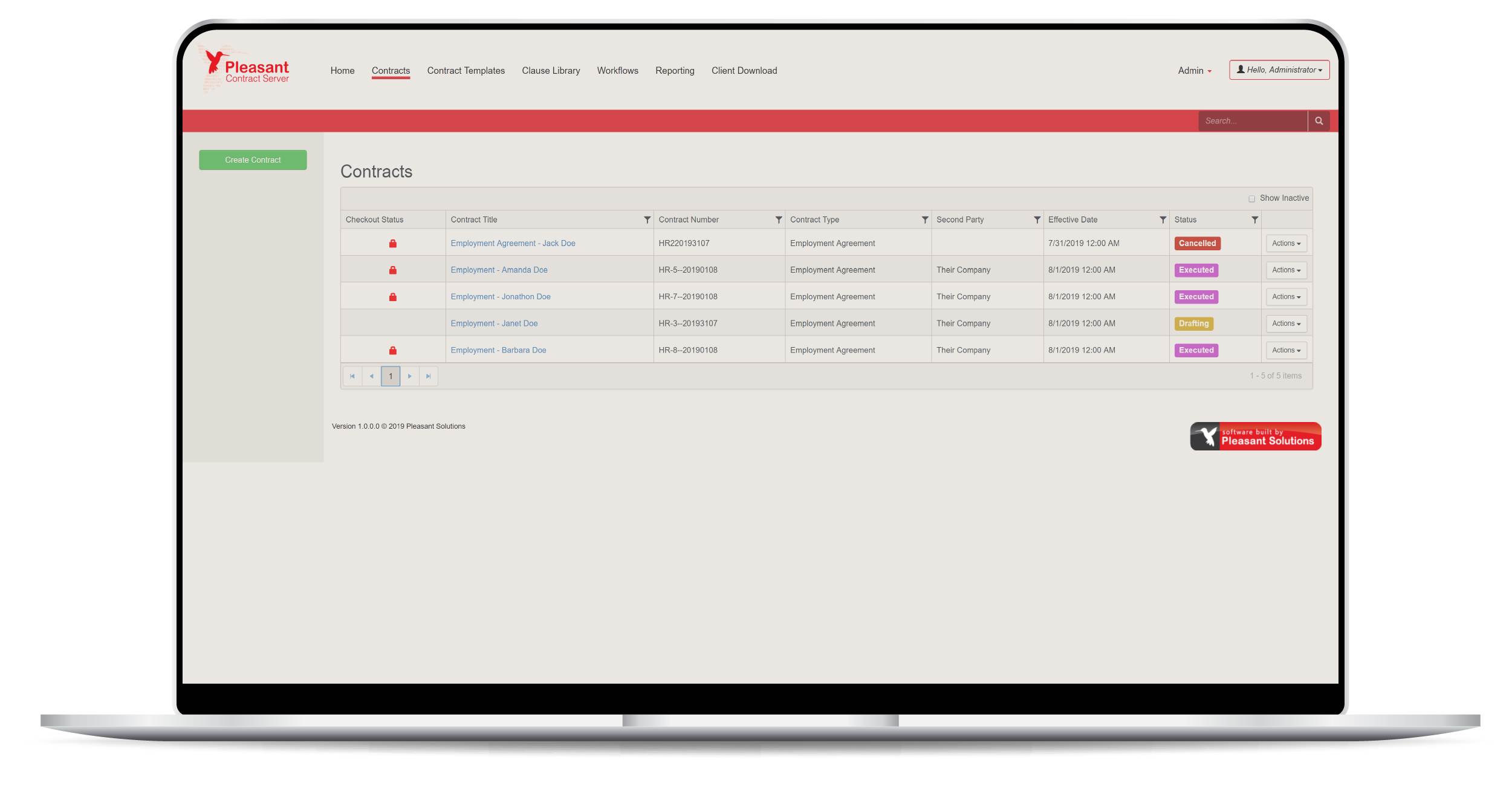 The Administrator has full access to all Contracts, and Users can see those based upon their roles and settings. Contracts can be easily filtered, such as by keyword, type of contract, status, and more.
---
Powerful Contract Authoring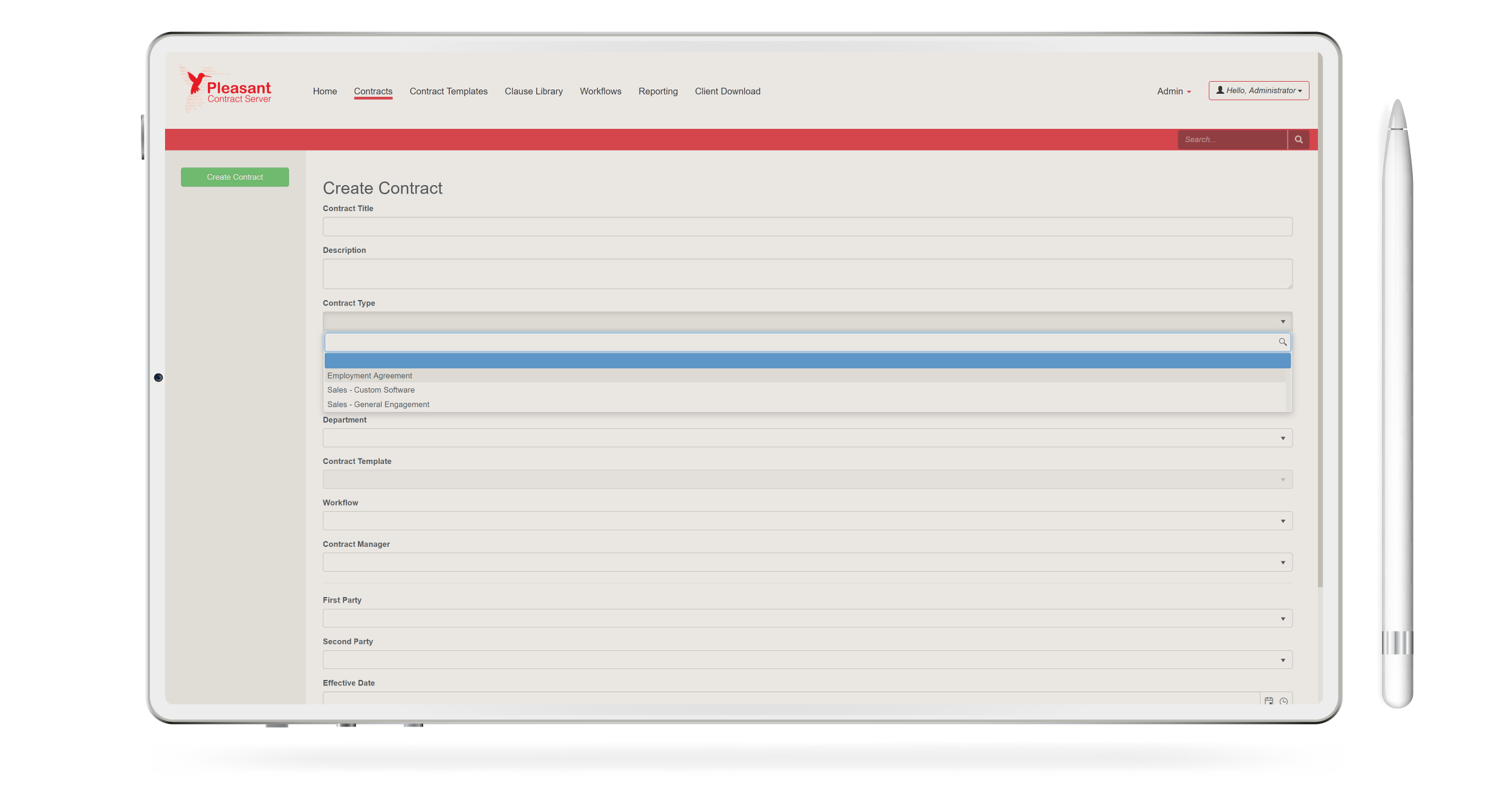 New contracts can be authored easily by selecting Create Contract and starting from scratch, or by selecting one of the Contract Templates.
---
Convenient Contract Templates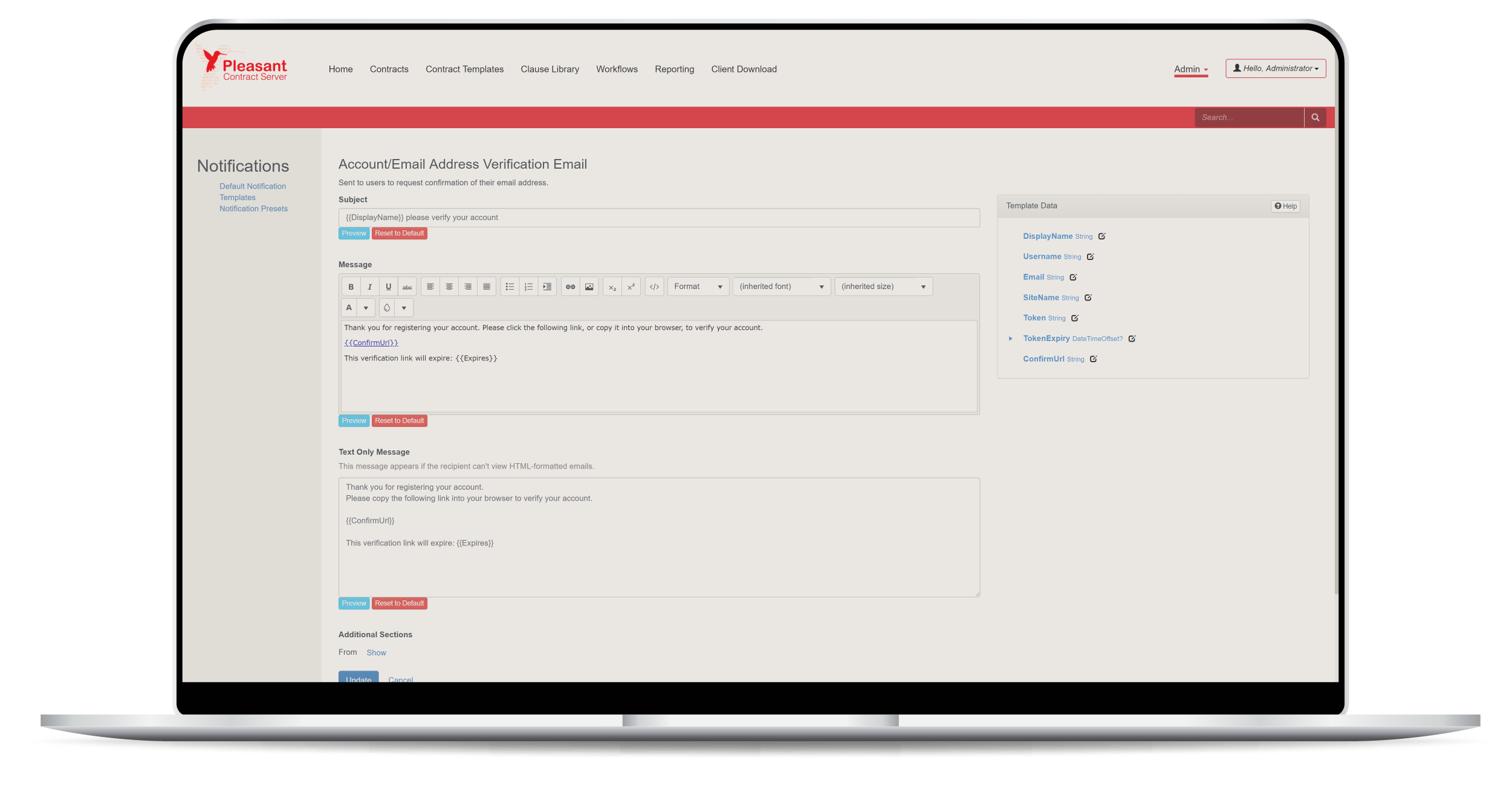 Contract Templates are a powerful tool that enable you to quickly author new contracts. The templates can be edited in the Word add-in. When working from a Contract Template, all that is required is to fill in the particulars of the specific contract, open the template with the Microsoft Word add-in, and use the "Resolve Placeholders" function to fill in these values within the document. New contracts from templates can be created in less than a minute!
---
Library of Clauses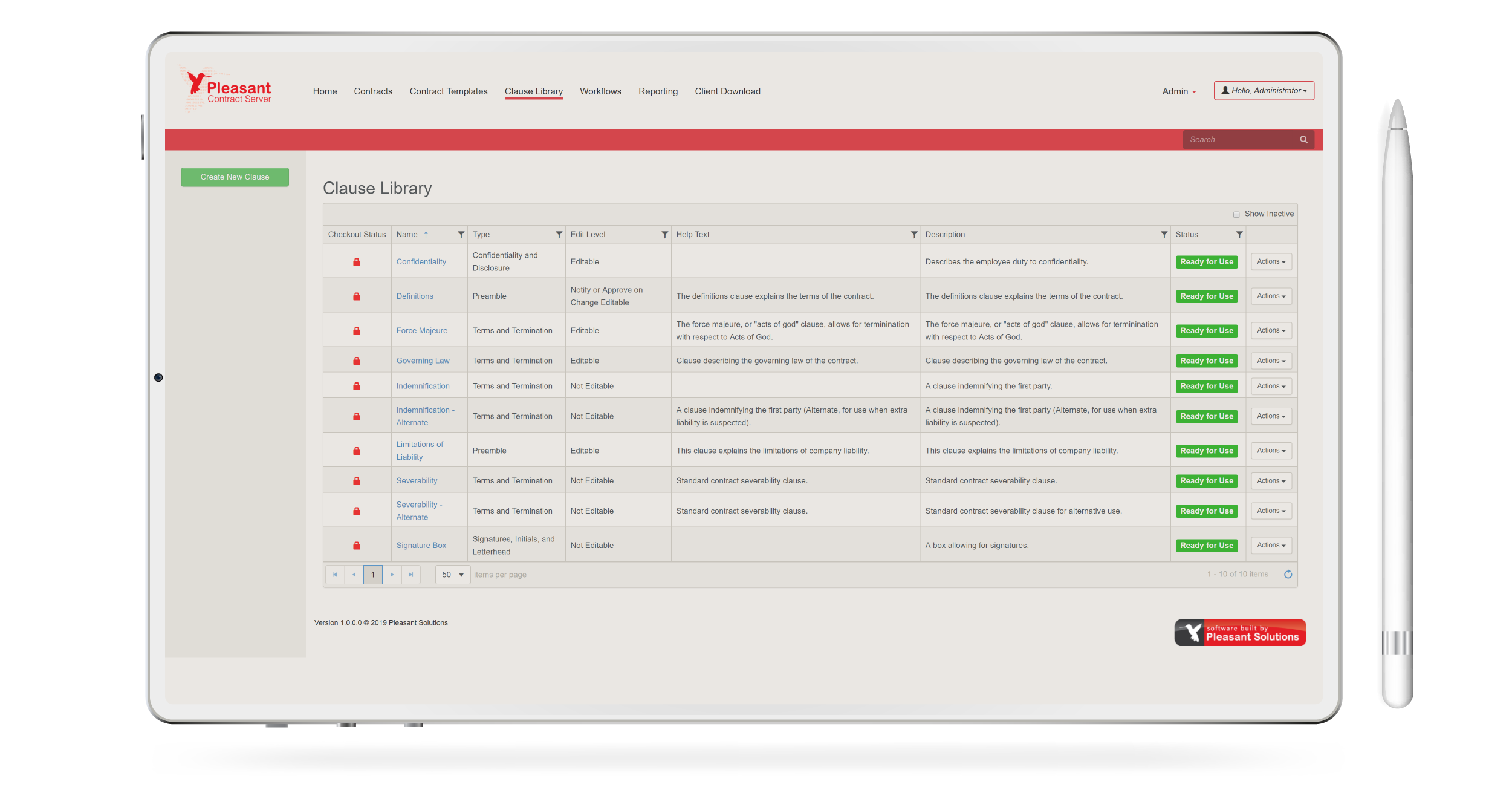 The Clause Library allows you to manage individual clauses, as well as their versions and approval status. Clauses can be configured to be editable or non-editable within the contracts, giving you the ultimate peace of mind knowing your important legalese isn't being tampered with.
---
Painless Clause Management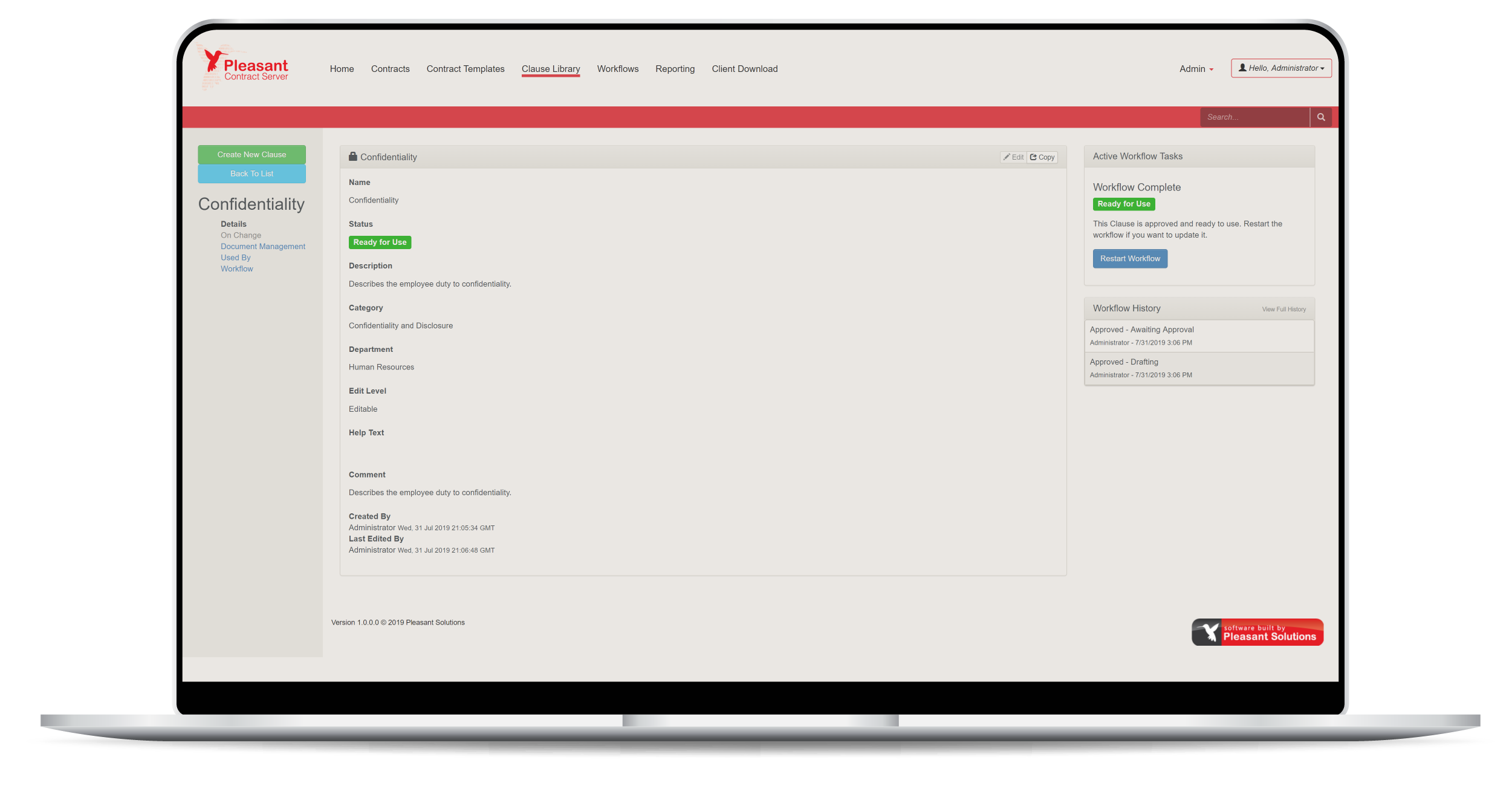 From the clause details page, you can see which contracts use this clause (sorted by version), edit the clause to have it automatically update all contract templates that contain it, and maintain versions and edit history of your suite of legal language.
---
Microsoft Word Add-In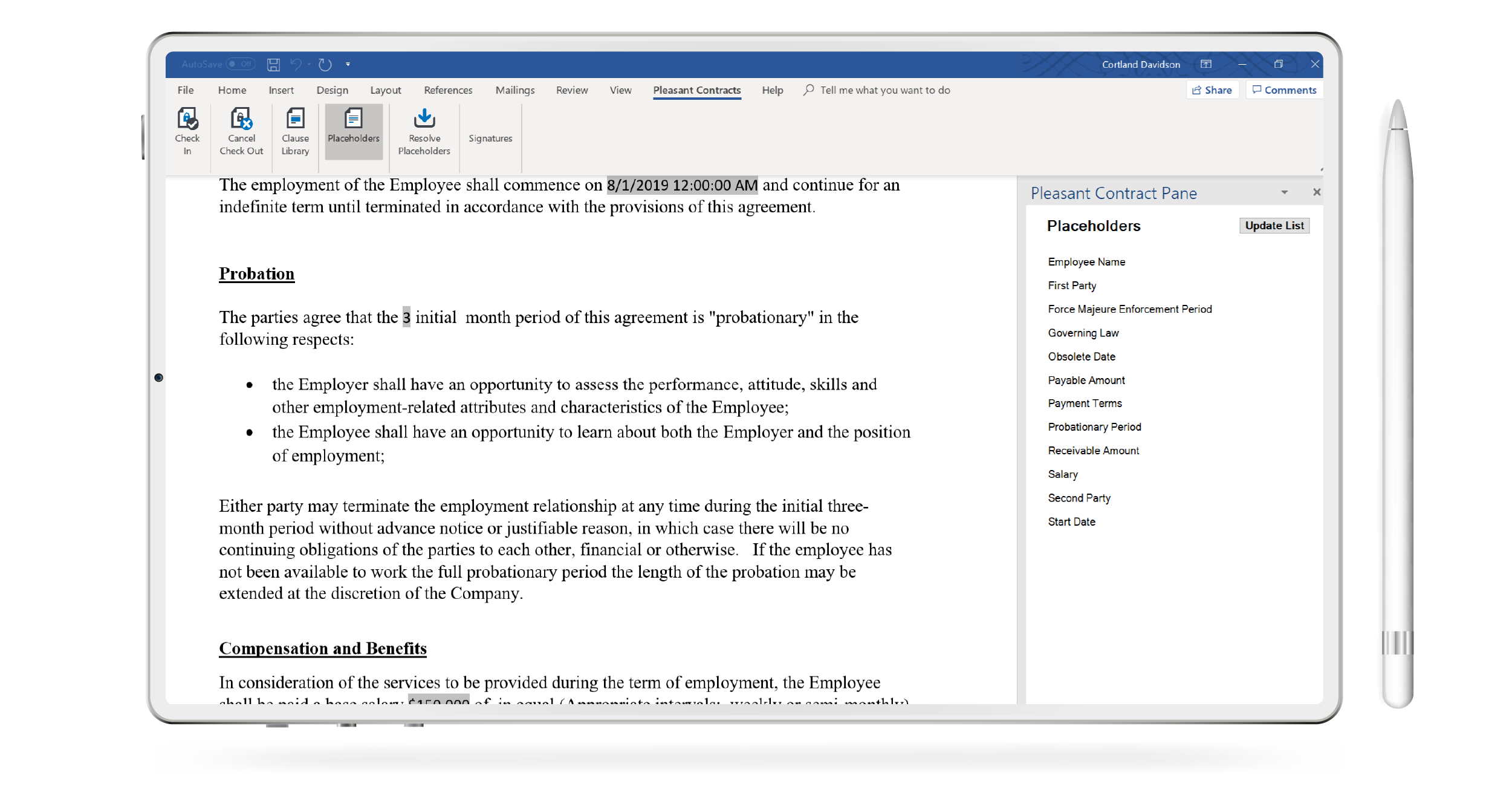 Within the Microsoft Word add-in, you can edit every element of your contracts, drag-and-drop clauses directly from your Clause Library, use the Resolve Placeholders function to auto-fill contract details, and much more.
---
Contracts are necessary for virtually every business on earth. And, as you can see, Pleasant Contract Server transforms a task that is tedious and time-consuming into something painless, organized, and secure.